Smith completes senior project, headed to Battery Innovation Center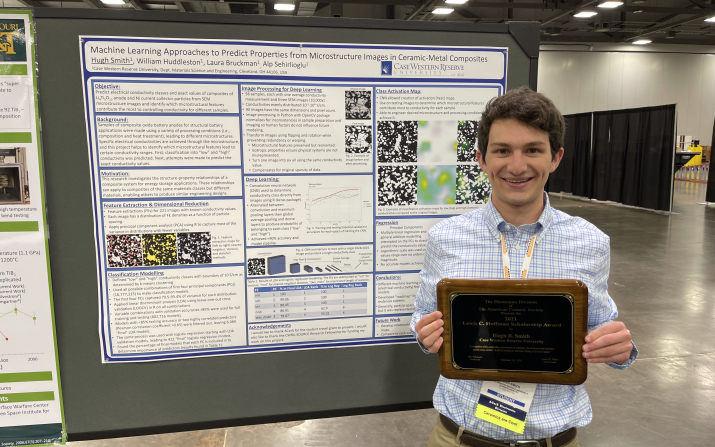 Published on
Dec. 3, 2021
After developing a new technique for analysis of spatial distribution of the chemical composition of oxide hetero-couples while working on a research paper, Hugh Smith decided to test the limits of the new approach for his senior project, "Analyzing Oxygen Vacancy Concentration of LaAlO3/SrTiO3 with Machine Learning."
Working with Associate Professor Alp Sehirlioglu and Research Associate Professor Laura Bruckman, Smith's goal was to detect oxygen vacancy concentration gradients, which affect the electrical conductivity of the material. Using a thin film of LaAlO3 deposited onto a SrTiO3 substrate, Smith collected data using the ToF-SIMS in SCSAM. While researching, he developed a deeper understanding of the machine learning techniques he was using and the math that was included, giving him deeper insight into his results and enabling him to make more profound conclusions.
Currently, Smith has two other research projects he is working on. After winning third place in MS&T's student poster competition, he is continuing his research on predicting electrical conductivity of ceramic-metal composites for structural battery anodes based on microstructure images. He also investigated mobile surface charged species on the surface of LaAlO3/SrTiO3 in a paper under review, of which he is the first author.
After he graduates from CWRU in January, Smith will begin an internship as a research and development intern at The Battery Innovation Center in Newberry, Ind., where fellow CWRU materials student Matthew Hoffman also interned in Spring 2021. "All my materials experience has been purely academic, so I am excited to gain industry experience, learn from new people with different backgrounds, and live in a new place," said Smith.
Looking back on his undergraduate career, Smith is not only proud of his research projects, but of his involvement in professional societies and his leadership experience in his extracurricular activities, including serving as Undergraduate Materials Society president. "My biggest accomplishment has been connecting with my fellow undergraduates as well as graduate students and faculty who have helped me with everything at CWRU," he said.
In Fall 2022, Smith plans to start his graduate studies and is currently applying to various PhD programs in materials science and engineering. During his graduate studies, he hopes to research materials for energy storage while incorporating data science.
In the long term, he hopes to work in the energy storage field and use his engineering skills to make the world more sustainable and reduce environmental impact.