Sophomore to begin coop at Battery Innovation Center, Inc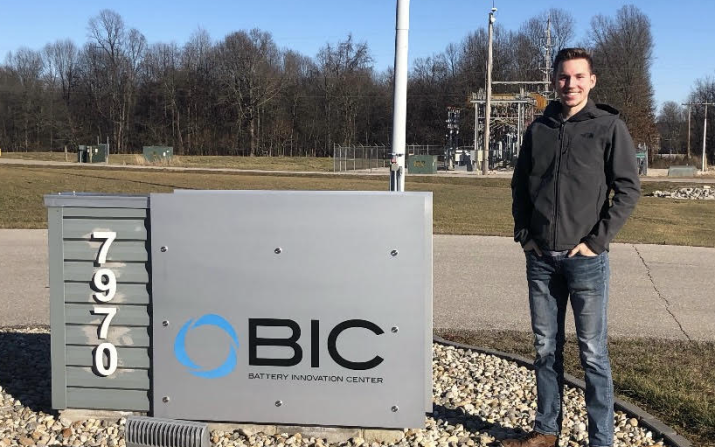 Published on
Jan. 21, 2021
On Jan. 25, sophomore Matthew Hoffman will begin a seven-month coop at Battery Innovation Center, Inc in Newberry, Ind.
Hoffman's main responsibilities will be learning about the industry that the company operates within and about the manufacturing of battery component materials.  He will also be mixing slurries for components and applying data analysis techniques for materials processing insight.
It was his research with the Electro-ceramics Group that drew Hoffman to Battery Innovation Center.  "As a result (of researching with the group), I had acquired some experience in the vein of research and development into materials for energy applications, and wanted to continue to work with and conduct research into similar areas for applications," he said.  The application process included responding to prompts regarding electrolyte materials for battery applications, as well as an interview and providing a resume and list of courses.
In December, Hoffman reached another milestone in his career: making contributions to a published paper, "Dimensional Stacking for Machine Learning in ToF‐SIMS Analysis of Heterostructures."  Hoffman worked under the guidance of Associate Professor Alp Sehirlioglu and Research Associate Professor Laura Bruckman.  Other contributaors to the paper were PhD candidate Elahe Farghadany, junior Hugh Smith and former CWRU researcher Kevin Abbasi, who is now a Metrology Process Engineer at Lam Research in San Francisco, Calif.  "I never truly thought that I would get the chance to be listed as a co-author on a scientific paper, and I am very grateful to Dr. Sehirlioglu and Dr. Bruckman for the opportunity they gave me to work with them."
Sehirlioglu and Bruckman have both played important roles in Hoffman's CWRU career.  Sehirlioglu was Hoffman's ENGR 145 instructor and invited Hoffman to work with the Electro-ceramics group when he was a freshman.  "I learned a great deal from Dr. Sehirlioglu about how to conduct research, present findings, collaborate, communicate professionally, and how to write in an academically professional manner," Hoffman said.  "The experience I gained from working with him definitely set me up for future success."  Additionally, Bruckman has helped him explore his interest in data science.
Hoffman finds "the entire field" of materials science and engineering "fascinating."  He was introduced to the field when he took EMSE 110 in Fall 2019.  Born and raised in Avon, Ohio, he said that seeing the presence of materials science and engineering in the Cleveland area and the broader world was an "eye opening experience."  With the Electro-ceramics Group, he has researched energy conversion, energy storage materials, and 2D behavior.  While he has not done any serious research on "smart materials," materials changing properties due to exposure to environmental stimuli, he is interested in that aspect as well.  Research is one of the aspects of the field that Hoffman most enjoys, and he can see the possibility of a career in academia or research and development after graduation.
A musician as well as an engineer, Hoffman appreciates that CWRU is a place where he can pursue both his passions.  "Personally, I knew that I wanted to pursue music in some capacity in college to couple with engineering, whether it be through an academic program or as a serious extracurricular. Through participation in the Spartan Marching Band, Symphonic Winds, and the CWRU Percussion Ensemble, I have continued to grow and to challenge myself as a percussionist and overall musician, and have made great friends and connections in the process."  He also appreciates the size and diverse atmosphere of CWRU.  "I enjoy getting to learn alongside students that are from around the world that challenge me to expand my worldview, and to learn from faculty members that know my name and face."