SCSAM Fellow Spotlight: Austin Ngo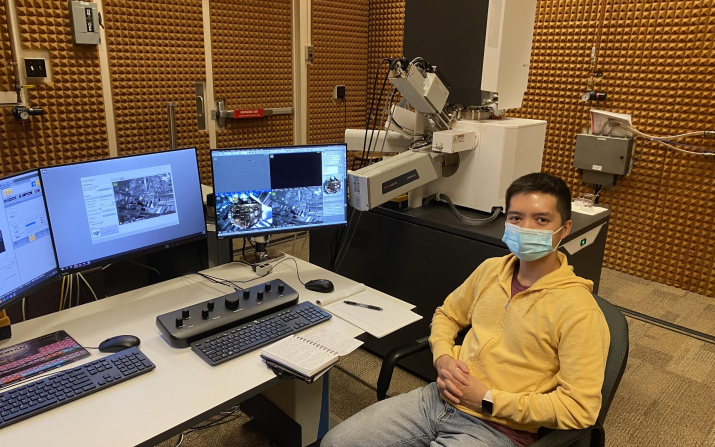 Published on
Sep. 16, 2022
The son of two chemical engineers, Austin Ngo "always had an interest in developing new technologies and finding solutions to technical problems." As a SCSAM Fellow this summer, he was able to examine  the microstructures of additively manufactured alloys after exposures to different heat treatment and forging conditions. "Most of my other research projects focus on testing the mechanical strength of materials, but with this project I am able to compare properties with more sensitive examination of microstructures," he said.
A Ph.D. candidate in Case Western Reserve University's Department of Materials Science and Engineering, Ngo had used SCSAM's light microscopes and scanning electron microscopes in the past for simple fracture surface characterization. However, he appreciated being able to try more advanced microscopy techniques. Working primarily with SCSAM's ThermoFisher Apreo 2S scanning electron microscope to study his specimens, Ngo appreciated being able to use the electron backscatter diffraction (EBSD) software to gather information about his specimens' grain characteristics and crystallographic orientation. After discovering that EBSD analysis required "very meticulous metallographic preparation," Ngo committed himself to improving his specimen polishing techniques over the course of his fellowship.
Primarily interested in additive manufacturing technology, Ngo looks forward to using the techniques he learned during his fellowship to characterize other materials. He is thankful to have had the opportunity to train on a "powerful instrument."
In addition to his success as a SCSAM Fellow, Ngo recently completed a three-year research collaboration with NASA and university partners, serving as a co-author on a recently published article about the research efforts.
"Austin is a highly organized and detail-oriented researcher," said SCSAM Research Engineer Tugce Karakulak Uz. "His enthusiasm about new characterization techniques makes the sessions so much fun. I enjoy working with him a lot."
Ngo pointed out that the application process for becoming a SCSAM fellow was "short and easy" and believes that other graduate students should "take a chance" on applying to be fellows.