Four students receive scholarships from ASM Cleveland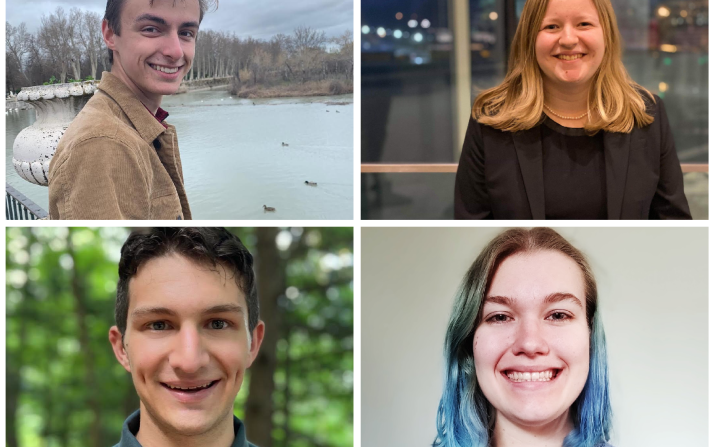 Published on
Apr. 20, 2021
Four students in Case Western Reserve University's Department of Materials Science and Engineering, Jen Bradley, Bridget Powers Beggs, Hugh Smith and Jackson Smith, were awarded Donaldson-Kiefer Scholarships by the Cleveland chapter of ASM International. The $1,000 award is awarded annually to "students who have demonstrated strength in academics as well as leadership and character."
In the past, three scholarships were awarded rather than four this year. "I am grateful for ASM Cleveland Chapter's generosity in the scholarship and expanding it from three to four awards this year," said Hugh Smith. "The other award winners are close friends of mine, so I was happy to share in their success as well."
Despite the COVID-19 pandemic, the 2020-2021 academic year has been a year of accomplishments for all four scholarship recipients, including poster presentations at ASM meetings for Powers Beggs and Hugh Smith. 
Powers Beggs won second place at ASM Cleveland's student poster night, gave a poster presentation at the 2021 EMA conference and had such a successful Summer 2020 internship at National Grid that it became a part-time job during the school year. In January, the grid modernization plan that she contributed to at National Grid was filed with the Rhode Island PUC. A member of the CWRU Humanitarian Design Corps team, she has been working to design the mounting system for the solar installation at a campus bus stop. "This semester I have gained a lot of confidence in my abilities as an engineer," she said. "COVID has definitely made school harder, but I am appreciative of the fact that I have still gotten to participate in several socially distant laboratory classes and gain hands-on-experience despite the limitations."
Hugh Smith also gave a poster presentation at the 2021 EMA conference and contributed to his first research paper. He said that he feels that he has grown in his independence and critical thinking skills this year and has been learning about ToF-SIMS in SCSAM. "I am looking forward to my upcoming training in using this materials characterization technique hands-on." He also feels that he has recently learned data science and lab skills that "have allowed me to do more in research and come up with ideas of my own for improvement."
This summer, Bradley will be a Wen H. Ko summer intern at the Cleveland VA Hospital's APT center. She will be working with Dr. Allison Hess-Dunning to create implantable electrodes for patients with damage to their somatic nervous system. Bradley expects her past experience with non-silicon transistors to be a foundation for designing flexible microelectronic devices. "By using substrate materials with Young's Modulus values closer to brain tissue, neural adhesion is increased and the risk of long-term damage caused by the implant is decreased," said Bradley. "COVID-19 is as stressful and complicated as always, but with my vaccination and the current progress the world has made I hope that I will be able to enjoy my senior year with some sense of normalcy." This will be her second consecutive summer at an internship, as she spent summer 2020 interning at Pratt & Whitney's materials and processes department.
Jackson Smith is spending the Spring 2021 semester as an associate research scientist intern at Nikon, where she is the only materials scientist. "Both the experience of living on my own and starting a new job in research has been hard, but it has also been a great experience," she said. Working in the lab part time and researching at home part time, she is especially grateful to have this job during the pandemic. She has worked with people from all over the world, sometimes with an interpreter, and believes that her communication skills have improved during the internship. Her SOURCE project was also featured at CWRU's Virtual Intersections in December 2020.
The scholarships were awarded at the chapter's annual Zay Jeffries lectures, which included a keynote address from Carl Koch, Kobe Steel Distinguished Professor at North Carolina State University and CWRU alumnus. "The event was very entertaining and it was clear that the organizers had put a lot of work into making it happen," said Powers Beggs. "One of the things that was interesting was learning about the Sherman antitrust legal proceedings that Zay Jeffries was involved in during his career. Also, the main lecture applied lots of concepts from Professor De Guire's thermodynamics class, which was fun to see the application of in real time."