Junior to intern at Nikon in 2021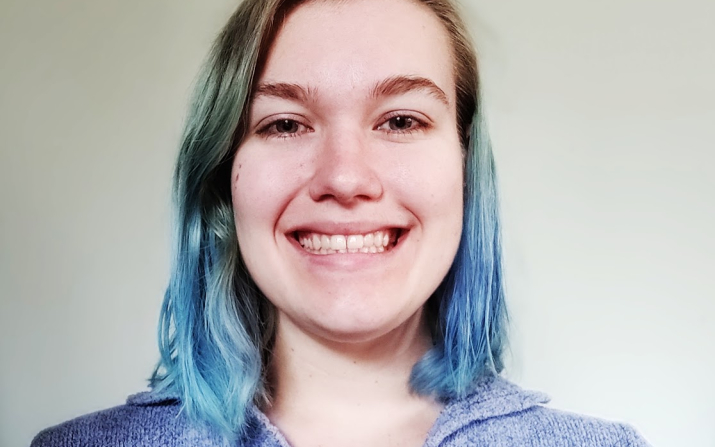 Published on
Nov. 16, 2020
In January 2021, junior Jackson Smith will head to Belmont, Calif., where she will serve as an associate research scientist intern at Nikon Research Corporation of America.  Smith, who will be at Nikon for eight months, will be the only materials scientist in the research center.  Her main responsibilities will include helping to develop Nikon's additive manufacturing equipment and assisting with other projects that require materials science.
Smith has built a broad resume during her time at CWRU to prepare her for her internship at Nikon.  This past summer, she participated in a SOURCE-funded research project on the effect of high energy ball milling on the phase transformation temperature of Cr2Nb.  Smith worked with PhD candidate David Scannpieco, Professor John Lewandowski and NASA's David Ellis, and Scannapieco presented their work at the Joint-Army-Navy-NASA-Air Force (JANNAF) Additive Manufacturing for Propulsion Applications Technical Interchange Meeting.
Smith, the president of the Undergraduate Materials Society, is an active researcher in the AMMRC, Lewandowski's research lab.  "I think additive manufacturing is really revolutionizing manufacturing for some industries and I'm excited to be involved in that."  She has also recently developed an interest in metallurgy.
A ThinkEnergy Fellow at the Great Lakes Energy Institute, Smith is currently working with GLEI on developing a safer, less flammable electrolyte for Li-ion batteries while maintaining a comparable capacity and cycleability to others on the market.
Smith credits Scannapieco, who was also her ENGR 145 TA, as a standout mentor during her time at CWRU.  "He was always so nice and offered to help me with declaring my materials science major or answer any questions I had about the major. I also thought it was really cool that he was working with NASA as an undergrad. After he was my TA, whenever I saw him in the department he always said hi. I actually ended up joining the same lab he worked in without even realizing it and now I help him with research for his PhD after he encouraged me to apply for  SOURCE funding and work on the project with him last summer."  Smith followed in Scannapieco's footsteps, becoming an ENGR 145 TA herself.
A Grove City, Ohio native, Smith was unsure about what to major in when she first came to CWRU.  She decided her freshman year that she wanted to be an engineering major, but decided to become a materials major after taking EMSE 110 and becoming "really fascinated with the industry."
Also a member of CWRU's rowing team, Smith hopes to join the department's five-year BS/MS program and is also considering getting her PhD.