Avatar team in semifinals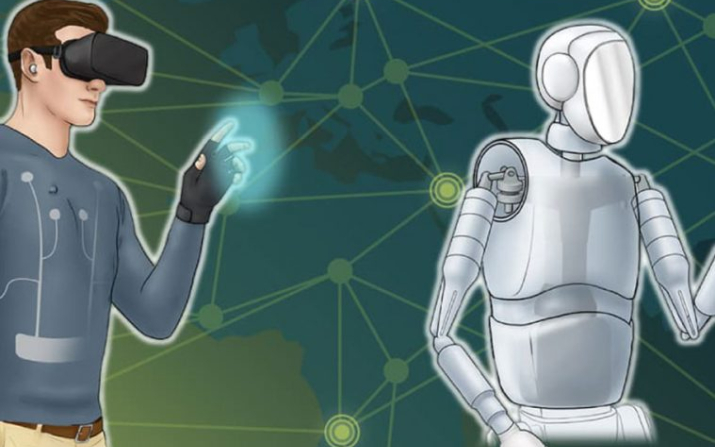 Published on
Apr. 7, 2021
Case Western Reserve-led team among 38 from 16 countries selected to compete for $10 million prize
A team led by Case Western Reserve University biomedical engineer Dustin Tyler has made it a step closer to the finals in a global competition to develop an "Avatar System that will transport a human's sense, actions and presence to a remote location in real time, leading to a more connected world."
On Monday, the XPrize Foundation—the same organization behind $10 million of financial support in 2004 to make the first privately funded human spaceflight—announced its semifinalists in a $10 million "global competition: 38 teams from 16 countries.
Sponsored by All Nippon Airways (ANA), Japan's largest airline, the Avatar XPrize is a four-year global competition focused on the development of an avatar system with an ability to execute tasks across a variety of real-world scenarios and "convey a sense of presence for both the operator and the recipient in those interactions."
"We are rapidly approaching an era where it will be possible for a doctor in New York to export their skillset virtually to respond to a natural disaster across the globe," Anousheh Ansari, CEO of XPrize, said in a news release. "The task at hand for these incredible semifinalist teams … is to break through physical limitations and expand the capacity of humankind itself through transformative robotic avatar technology." 
A 'broad array of expertise'
The Case Western Reserve team, led by Tyler, the Kent H. Smith II Professor of Bioengineering at the Case School of Engineering, includes more than two-dozen researchers from five academic institutions—a dozen collaborators from the Case Western Reserve campus and several more from Carnegie Mellon, Cleveland State University, UCLA and the University of Wyoming.
Dustin Tyler  
"Our partners bring a broad array of expertise that includes neural engineering, haptic robotics, phenomenology, cognitive neuroscience and virtual reality to create a powerful team," Tyler said. The team was among 77 first selected for the competition in 2020.
Next step: An in-person demo of the Human Fusions avatar in Miami in September.
Tyler also said he was impressed that XPrize organization had the vision "to realize that travel is about the experience of being anywhere, and that this does not necessarily require physical travel to achieve. This aligns perfectly with the vision and mission of the Human Fusions Institute and our avatar."
The Human Fusions Institute was established by Tyler in 2019 to advance his trademarked NeuroReality™ and is providing the underlying technology for the XPrize effort.
The institute is supported in part by grants and a portion of a $20 million strategic initiative fund for biomedical engineering that late alumnus Robert Aiken and his wife, Brenda, committed in 2017.
Emily Graczyk, a research assistant professor of biomedical engineering who works at the institute and on the XPrize entry, said the robotic systems of this avatar, nicknamed "Sensa," were primarily developed at UCLA, while the human interfaces were primarily developed at CWRU.
Graczyk said two students "were truly critical to making this success possible," Luis Mesias Flores, a PhD student in electrical engineering at Case Western Reserve, and Lionel Zhang, a PhD student in mechanical and aerospace engineering at UCLA.
The various parts that make up the prototype for "Sensa": A. Stretch Robotic Platform (Hello Robot); B. Custom manipulator with MIT GelSight tactile sensors (UCLA) C. NeuroReality sensory glove (CWRU) D. Oculus headset (from Facebook)  
Flores and Zhang are the two students—2,300 miles away from each other in Ohio and California—featured in the Human Fusions Institute video which demonstrates "Sensa's" abilities to maneuver, grasp and sense.
While the prototype is "focused first on providing an embodied remote experience with agency, touch sensation, visual feedback, and audio feedback," Tyler said, someday it could provide the basic technology for much more.
"We are developing the Human Fusions Sensa Avatar with the broader goal toward a health care avatar to extend care and medical expertise to all corners of the world and to all people," Tyler said.
In his 16 years at Case Western Reserve, Tyler has been on a mission to extend physical touch—the "essence of the human experience"—across space and time.
In recent years, he and his team have brought the sensation of physical touch to a prosthesis so an amputee could safely pick up his granddaughter and effectively slice a tomato—fundamentally changing the prosthesis from a sporadically used tool to a working "hand."
"For the past nine years, we have seen the impact of direct neural connection between a robotic system and individuals with limb loss," Tyler said. "They would describe their robotic prosthesis as 'their hand.'
He said that's when he and his team realized the much larger potential of this NeuroReality technology.
"We could put their prosthesis anywhere in the world and still allow a person to put 'their hand' anywhere in the world," he said. "By adding 3D-visualization and voice to the experience, we are creating a realistic sensation of actually being anywhere in the world at any time over the internet."
---
For more information, contact Mike Scott at mike.scott@case.edu.
(From The Daily 4/7/2021)