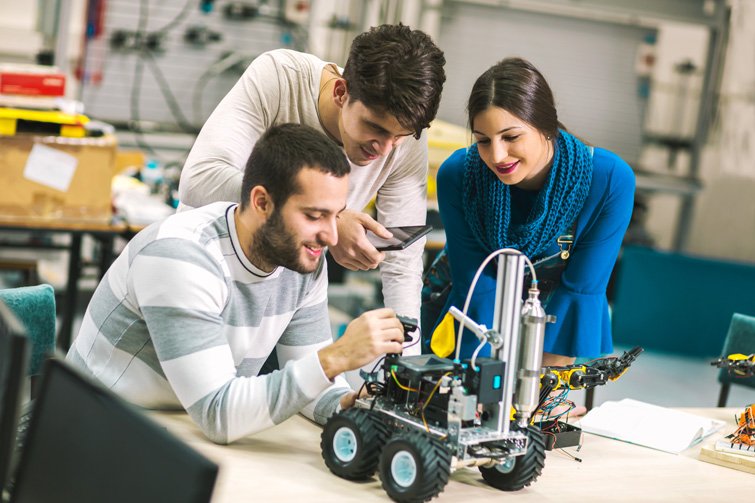 Degree: Doctor of Philosophy
Areas of Study: Electrical Engineering, Computer Engineering, or Systems and Control Engineering
Our PhD degree programs provide a path for lifelong professional and personal achievement. The Department of Electrical, Computer and Systems Engineering offers doctoral degrees in:
The PhD program consists of 36 credit hours of coursework, including departmental core courses and 18 credit hours of PhD thesis work, in addition to passing the research qualifying exam (oral proposal) and the written qualifying exam. 
Our facilities are limitless resources to implement and develop a broad range of ideas. You'll have ready access to centers such as the Neural Engineering Center, Great Lakes Energy Institute and the Electronics Design Center. 
At Case Western Reserve, you're also surrounded by top hospitals such as Cleveland Clinic, University Hospitals Cleveland Medical Center, MetroHealth Medical Center and the Louis Stokes Cleveland VA Medical Center where you can conduct research or hone your craft.
Our PhD students receive financial support through university fellowships as well as research grants from areas such as The Cleveland Foundation, Case Comprehensive Cancer Center and the state of Ohio. 
Graduates of the programs ultimately take their experience and expertise to top nanotech and robotics companies. They also collaborate with our faculty and staff on research post-graduation, to continue generating solutions and leave their mark on science. 
Ohio Board of Regents Doctoral Program Statements
The Department of Electrical, Computer and Systems Engineering is home to three PhD-granting programs.
Read the Ohio Board of Regents Doctoral Programs Statement for each doctoral program: