Research matters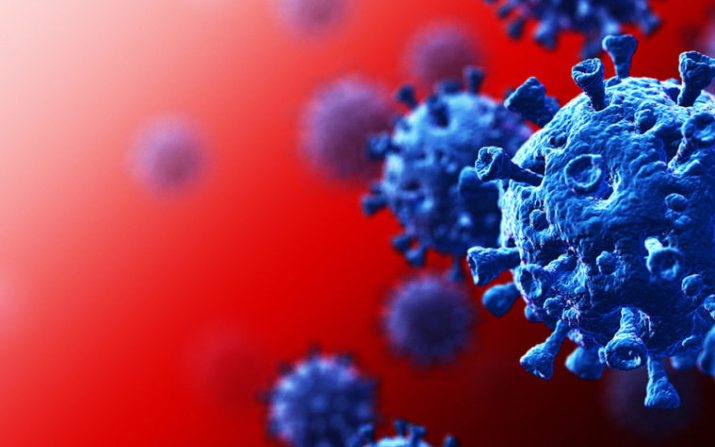 Published on
Aug. 17, 2020
This article first appeared in a summer publication related to the university's response to the COVID-19 pandemic. More articles will appear in The Daily and on the university and school social media accounts in upcoming weeks; visit case.edu/together to see more.
Combatting COVID-19—and its many ripple effects—first requires understanding.
So as the urgency of the pandemic became apparent, Case Western Reserve University School of Medicine quickly assembled the COVID-19 Task Force. Within days of its inception, more than 260 faculty and staff from across every school volunteered for the effort, led by Professors Jonathan Karn, PhD, and Rafick Pierre Sekaly, PhD.
In less than two months, task force members submitted nearly 50 research proposals related to the development, control and biology of the novel coronavirus, and connected with top researchers from across Northeast Ohio to enhance and unify the region's efforts.
Here is a peek into just a small portion of the multifaceted work being done across campus to better understand the science related to COVID-19—and its effects on everything from mental health to the economy.
Apps for Mapping
Two systems help track the spread of novel coronavirus
It's impossible to know precisely where the novel coronavirus lives. But two tools created by CWRU faculty aim to track its prevalence to slow the spread.
alpha-Satellite
Yanfang (Fanny) Ye, a faculty member in the new Department of Computer and Data Sciences, recently earned her second National Science Foundation COVID-19 RAPID award. The new grant supports work developing artificial intelligence approaches to detect COVID-19-themed malware.  
A team led by Yanfang (Fanny) Ye, PhD, the Theodore L. and Dana J. Schroeder Associate Professor in the Department of Computer and Data Sciences at Case School of Engineering, developed alpha-Satellite, an online risk-assessment tool (covid-19.yes-lab.org) and mobile app that gives users information about the relative risk of going to any location in the United States.
The program is driven by artificial intelligence and up-to-date, publicly available data, including county-based COVID-19 statistics; demographic data from the U.S. Census Bureau; mobility data from Google Maps; and user-generated data from social media. The National Science Foundation awarded the team a one-year grant.
Ye and Kenneth Loparo, the Arthur L. Parker Professor and faculty director of Institute for Smart, Secure and Connected Systems, said alpha-
Satellite should automatically provide community-level risk estimates to help people protect themselves while minimizing disruptions to their daily life to the extent possible.
ShareTrace
Case Western Reserve and the research organization HAT-LAB will launch in July the ShareTrace app, which provides privacy-protecting contact tracing and offers personalized infection risk-management tools to reduce the spread of COVID-19.
The app, originally called Health Traffic Light, won the Hack from Home global hackathon, which brought together (virtually) 822 participants from 62 countries to create technology-based solutions to fight the coronavirus. The winning team included faculty from Weatherhead School of Management, Case School of Engineering and School of Medicine.  
"We needed to bring bright minds together to address the complex and rapidly evolving problems our world is facing," said Youngjin Yoo, PhD, the Elizabeth M. and William C. Treuhaft Professor of Entrepreneurship at the Weatherhead School, who helped coordinate Hack from Home and is on the ShareTrace team. "I am so proud of and humbled by the global response to the hackathon and our project."
—Mike Scott and Amanda Knauer
Studying the Spread
Case School of Engineering, Cleveland Clinic earn funding from National Science Foundation 
A team of Cleveland Clinic and Case Western Reserve University researchers is analyzing COVID-19 patient data to better understand how the virus spreads and where various strains originate.
 Supported by a special COVID-19 fund from the National Science Foundation, the team is conducting an epidemiologic analysis using data from patient samples collected at Cleveland Clinic.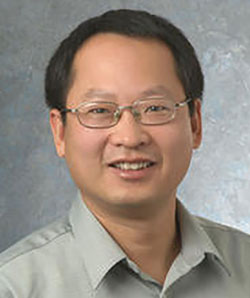 Jing Li  
The work will be led by Case Western Reserve researcher Jing Li, PhD, interim chair of the newly created Department of Computer and Data Sciences at Case School of Engineering, and Frank Esper, MD, a specialist in the Center for Pediatric Infectious Disease at Cleveland Clinic.
Li and Esper will sequence the genome from about 400 of the 2,000 samples to study mutations and use computational algorithms to mine patterns from the genetic sequences of the RNA of the novel coronavirus, SARS-CoV-2. Once the "letters" of the sequence are determined, computational algorithms can be used to mine patterns from the sequences. 
Coupled with epidemiologic data from each affected individual, such as demographic information and diagnosis date, the information will provide new insights into transmission patterns of the novel coronavirus, SARS-CoV-2.
—Mike Scott
Understanding the Emotional Effects
Study looks at 'unprecedented' levels of trauma caused by the global pandemic
The U.S. has the largest COVID-19 outbreak in the world. And while physical health can be tested, little is known about the pandemic's impact on mental health.
Megan Holmes  
"There are some valid concerns that this coronavirus pandemic could cause emotional trauma and PTSD at a level we've never seen before," said Megan Holmes, PhD, an associate professor of social work and the founding director of the Center on Trauma and Adversity at the Jack, Joseph and Morton Mandel School of Applied Social Sciences.
In just two weeks, a half-dozen researchers from the center, Frances Payne Bolton School of Nursing and School of Medicine gathered nearly 600 participants for a pilot study about emotional well-being and coping strategies amid the pandemic.
In preliminary results, 94% reported some levels of grief and 86% experienced at least one trauma symptom—"a rate that is much higher than reported for other traumatic events," Holmes said, citing quarantines and ongoing physical health threats as unique stressors. 
The team created a resource page (bit.ly/CWRU-coping). The next step: produce state and national estimates of the impact.
—Colin McEwen
Targeting the Virus
An international team works at the molecular level to slow the novel coronavirus's spread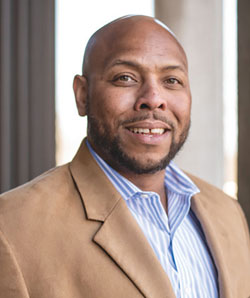 Blanton Tolbert  
When Blanton Tolbert, PhD, learned of the new coronavirus outbreak, he realized he and his colleagues might be able to help.
The Case Western Reserve assistant professor of chemistry and research partners at Duke and Rutgers universities had recently laid the groundwork to develop novel antivirals against Enterovirus 71 (EV71), a similar RNA virus that causes hand, foot and mouth disease. Since, they've expanded their team internationally, adding partners from the University of Michigan, the United Kingdom and Taiwan, and are now poised to make significant inroads into identifying vulnerable COVID-19 targets—and slow the spread of the novel coronavirus, Tolbert said.
The team has submitted a funding proposal to the National Institutes of Health to work on developing an antiviral.
"We've already shown the necessary 'proof of concept' with EV71, which shows we know how to get things done. … We are equipped and ready to go," Tolbert said, "and we can make a difference."
—Mike Scott
The Power of Distance
Social distancing has helped 'flatten the curve'—but how has it affected our behavior?
Six feet apart. It's the metric people across the U.S. have heard for months as the "safe distance" to keep when in public.
But what is the impact of public health interventions, such as social distancing, on actual human behavior?
Scott Emory Moore  
"The COVID-19 pandemic and the resulting public health interventions intended to 'flatten the curve' have had massive impacts on the economy and the day-to-day lives of Americans," said Scott Emory Moore, assistant professor in Case Western Reserve's Frances Payne Bolton School of Nursing. "However, not all Americans are experiencing this pandemic in the same way—or at the same time—because of the differing rates of infection, hotspot eruptions across the country, and how those factors influence local and state regulations and recommendations."
Moore teamed up with Indiana University School of Nursing Assistant Professor Kelly Wierenga, a former CWRU postdoctoral fellow, for a national study to understand how perceptions of and responses to the pandemic have influenced self-management behaviors and symptoms.
The online survey is the first part of a multiphase study, the results of which will help inform care and practice for future pandemics, Moore said.
—Liz Lundblad