Engineers Without Borders
Engineers Without Borders (EWB) helps create a more stable and prosperous world by providing access to necessities such as clean water, power, sanitation, and education. EWB-Case, the CWRU student chapter of EWB, pursues the education of students in a socially conscious manner through experiential learning by implementation of international projects.
https://www.facebook.com/ewbcwru/
Humanitarian Design Corps
Through multi-disciplinary design teams working on long-term projects, we provide innovative solutions to global communities and create a more culturally aware student body. HDC design teams work on water, sanitation, renewable energy and conservation projects internationally and locally.
https://www.facebook.com/HDCCase/
Global Health Design Collaboration
We are undergraduate and graduate students interested in engineering, medicine, and anthropology who work in design teams to address challenging global health issues. Our Mission is to apply user-centered design methods to contextualize and solve unmet health-care needs in low and middle income countries. We ultimately aim to make our solutions available to those in need.
https://www.facebook.com/CaseGHDC/
CWRU-MedWish
MedWish International is a Cleveland-based Medical Surplus Recovery Organization (MSRO). CWRU-MedWish students help to sort, test and repair surplus medical equipment that is being donated for use in low and middle-income countries. CWRU-Medwish provides a great opportunity for hands-on experience with medical instrumentation and is open to anyone who wants to join.
http://engineering.case.edu/ebme/MedWish
Science and Human Rights Coalition
The CWRU Science and Human Rights Coalition (SHRC) is group of scientists and human rights activists dedicated to promoting the intersection of science and human rights and building a bridge of communication between our communities. The rights of scientists, our right to scientific progress, and science in the service of human rights all protect the basic dignity of humanity. The Coalition will provide an open forum for educating the community and working for the greater application of these rights through local and international activism and advocacy.
https://www.scienceandhumanrights.com/
Center for Engineering Action - VentureWell Fellows Program

The goals of this pilot workshop are to provide guidance, mentorship and resources to student teams interested in sustainable design for low-resource communities. The inaugural cohort will work together, share ideas and ultimately apply to VentureWell to become Entrepreneurial Teams (E-Teams).
https://venturewell.org/e-team-grant-program/
Billion Bottle Project
The Billion Bottle Project is a non-profit working to increase access to clean drinking water by enhancing the solar disinfection (SODIS) technique. By making SODIS easier to use, BBP is working towards a world where every family has a sustainable source of clean drinking water that protects them from waterborne disease.
Global Health Design Collaboration (GHDC)
The Global Health Design Collaboration (GHDC) is a multi-level interdisciplinary organization that aims to integrate social science and engineering disciplines in the development of relevant, sustainable solutions to health concerns in Uganda. Specifically, GHDC seeks to utilize the theoretical perspectives and methodologies of sociocultural anthropology to identify local health concerns within an emic model, and then apply these factors as inputs to an engineering design process to produce culturally appropriate and sustainable solutions.
Humanitarian Design Corps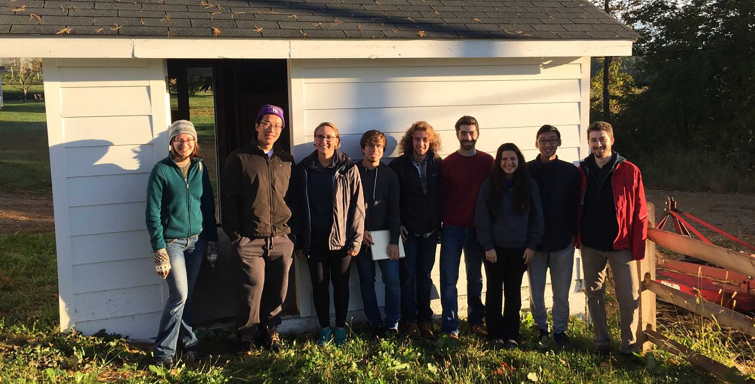 This student group works in conjunction with Engineers Without Borders and is committed to improving the well-being of disadvantaged populations through engineering.