Model Citizens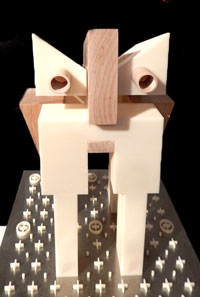 These sculptures were designed and built by an architect using 3D printed parts intermingled with wood pieces cut on the CNC table router.
Custom-Built CNC Table Router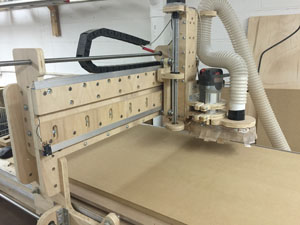 This 3-axis CNC table router was designed and built from scratch by students from the University of Akron. Fabrication occurred at think[box] where parts were cut using the ShopBot.
Compliant Modular Mesh Worm Robot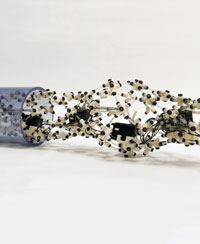 This project by the Biologically Inspired Robotics Laboratory at Case Western Reserve University seeks to develop a novel means of robotic locomotion useful in niche applications such as pipe inspection. Credit goes to Andrew D. Horchler, Akhil Kandhari, Kathryn A. Daltorio, Kenneth C. Moses, Kayla B. Andersen, Hillary Bunnelle, Joseph Kershaw, William H. Tavel, Richard J. Bachmann, Hillel J. Chiel, and Roger D. Quinn.
2015 Mini-Baja Car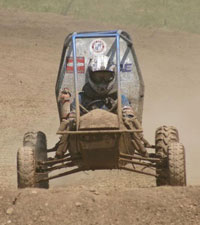 This vehicle competed in the Society of Automotive Engineer's annual mini-baja competition where CWRU students designed and built the car from scratch. Students 3D printed mold-making patterns, cut out welding fixtures in the laser cutters, and fabricated composite floor panels for the finished car using the CNC table router.
Reading Wetu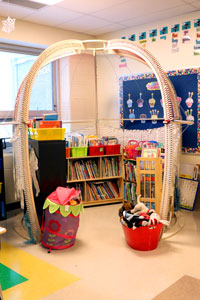 "Reading Wetu" is a project created with the first grade class of Ms. Erin Shakour at Orchard STEM School, located on Cleveland's west side. The Wetu occupies an 8 x 8 x 8 foot area in the corner of her classroom, and houses her library of children's books. The structure is built entirely from 3/4" thick plywood and yarn, and was fabricated with the CNC router at think[box]. This project was a collaboration with Progressive Arts Alliance, a local arts organization whose focus is to provide STEAM (Science, Technology, Engineering, Arts, and Math) programming to the Cleveland Public School District.
Frostbites Cafe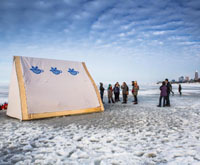 Frostbites Cafe pop-up restaurant was an experiment in modular dwelling construction for difficult terrain. Hollow plywood arches were fabricated using the CNC table router, and a novel scheme was employed to attach a canvas covering. Thanks to a permit through the Cleveland Metroparks, this structure was installed 1/4 mile north of Edgewater Beach Park, on Lake Erie ice measuring 24 inches thick. A team of 52 volunteers worked to build the structure and put on an event, which included free food and drink from the purveyors of The Root Cafe and Now That's Class. Over 400 visitors enjoyed Frostbites Cafe during the one-day installation on March 8 of 2015.
Apollo Medical Devices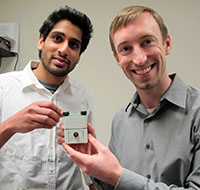 Apollo Medical Devices produces rapid, low-cost, accurate blood analysis systems that require only a single drop of blood. Weighing less than a pound, their device is highly portable and enables use in the developing world, disaster relief, and other areas where blood testing and analysis was previously infeasible.
Cleanmate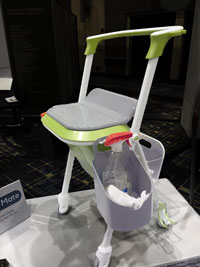 Clean Mate is a hybrid walker, folding seat, and caddy for cleaning products. Clean Mate enables a person with limited physical capabilities to perform household duties more easily. It supports mobility as the user pushes it, provides a seat for resting while cleaning and provides organized supplies storage. Clean Mate assists elderly users who feel dependent on others for home cleaning. The convenient portable caddy can benefit users of all ages who sit or stand while cleaning and it folds for storage. Won second place in the 2015 IHA International Student Design Competition in Chicago.
HackCWRU 2015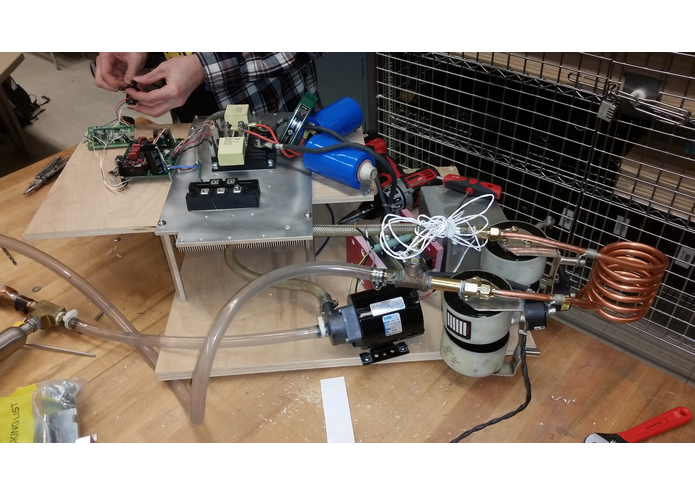 Thirty six straight hours of design, code, caffeine, taking on new challenges, and innovating - that's what hundreds of hackers of all ages and skill levels signed up for at HackCWRU 2015. At the end of the weekend, twenty four projects were presented ranging from a virtual reality pancake simulator to a the high-powered induction heater shown in the photograph. Using think[box], attendees were able to hack hardware as well as software, giving HackCWRU a unique twist on the usual hackathon.
Everykey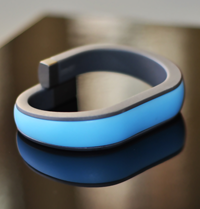 The Everykey wristband stores login information and unlocks mobile devices automatically, eliminating the need for complicated passwords and cumbersome keys. When the AES 128-bit encrypted wristband moves out of range, security mechanisms are re-enabled and accounts are logged out automatically to keep information secure. This Cleveland area company began as a CWRU class project in 2012, ran a successful Kickstarter campaign in 2014, and continues to sell these devices to customers around the world.
Pages