SDLE Webinar Draws International Audience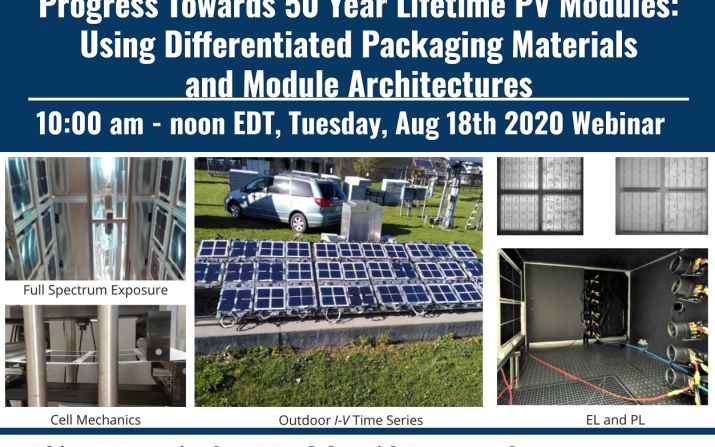 Published on
Sep. 4, 2020
On August 18, the SDLE Research Center held an industry webinar to share progress on their research project, Progress Towards 50 Year Lifetime PV Modules: Using Differentiated Packaging Materials and Module Architectures.  The webinar drew attendees from all over the world.
The project, which is a little more than halfway through, has team members from CWRU, NREL, Canadian Solar (CSI), Cybrid and DuPont, where Professor Roger French spent 25 years developing materials before he came to CWRU.
The goal of the project is to identify strategies to advance PV module lifetime towards 50 years.  Other goals include reducing power degradation rate to 0.2% annually and improving packaging materials and module architectures.  The goal for the SunShot in 2030 is $0.03/kWh.  Both indoor and outdoor studies of mini modules took place.  The group is studying warranties, glass, backsheet, double glass modules, manufacturing defects, failure modes, degradation mechanisms, cell mechanics and microindentation to determine changes in mechanical properties.
The group also hopes to optimize double glass and glass backsheet mini module design based on degradation rate, mechanical durability and cost.  The mini modules are exposed both in the lab, and outdoors.  Minimodule fabrication took place at both CWRU and CSI, while outdoor exposure of 32 mini modules took place at the SDLE's SunFarm and began on April 28, 2020. 
Speakers from CWRU included French, Associate Professor Jennifer Carter, Research Associate Professor Laura Bruckman, and PhD students Jiqi Liu, Sameera Nalin Venkat and Kunal Rath.  Research Assistant Professor Jennifer Braid served as master of ceremonies.
The webinar was attended by 90 people, coming from universities, national labs, companies who make materials, solar panels and people who own power plants in the United States, Austria, Germany, India, France, Australia, Belgium, Japan and Chile.  The main interest of 66% of attendees was bi facial PV molecules; while there were also attendees interested in metallization, transparent backsheet, PERC cell degradation, glass backsheet molecules, degradation study, PERC cell architecture and double glass modules.  Most attendees were researchers or manufacturers.  
Program managers at the Department of Energy have applauded the researchers for holding a webinar to get broad input.  French used LinkedIn, the SDLE Twitter account and his personal Twitter account to advertise the seminar and share the registration link.  After the two hour zoom event, the recording and slides was uploaded to the SDLE Website and the  SDLE YouTube Page, where there is a SDLE Webinars PlayList.