New Faculty Spotlight: Laura Bruckman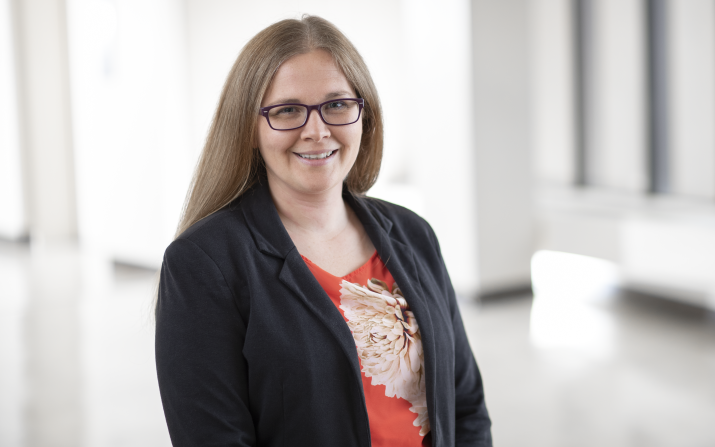 Published on
Aug. 18, 2022
Associate Professor
Department of Materials Science and Engineering
Laura Bruckman always new she wanted to be a scientist. With a background as a chemist, she received a bachelor's in chemistry with a specialization in biochemistry and went on to study analytical chemistry in graduate school, building two different instruments and learning data science. In 2011, she came to CWRU as a postdoc and from there advanced to become an assistant then associate research faculty member. Now, she joins the university as an associate professor in the Department of Materials Science and Engineering.
Bruckman applies her data science, chemistry, and spectroscopy background to understanding degradation in materials. Through courses like Freshman Research (EMSE125), Data science projects, and Data visualization and analytics, she brings that expertise into the classroom for students.
What is your favorite thing about engineering?
I really enjoy designing studies to solve complex problems. It is exhilarating when you make progress, but you always find something else that needs to be solved.
What are you most looking forward to at Case Western Reserve University?
I am excited to grow my research group at CWRU in materials data science around materials reliability.
If you're a Cleveland local, what is your favorite thing to do in Cleveland? If you're new to Cleveland, what're you most looking forward to exploring?
I moved to Cleveland in 2011. So I guess I am local enough! My family and I love hiking in the metroparks, biking on the toe path, and kayaking in the river and lake. We had to Lake Erie beach to swim and bring the dog who loves swimming. We love the great restaurants (especially Little Italy). The museums are excellent here. The orchestra at Blossom in the summer is wonderful. We love attending Lake Erie Monster Games and Guardian games.
What's the best piece of advice you've ever received?
You belong!