Hannah Sims to defend Ph.D. thesis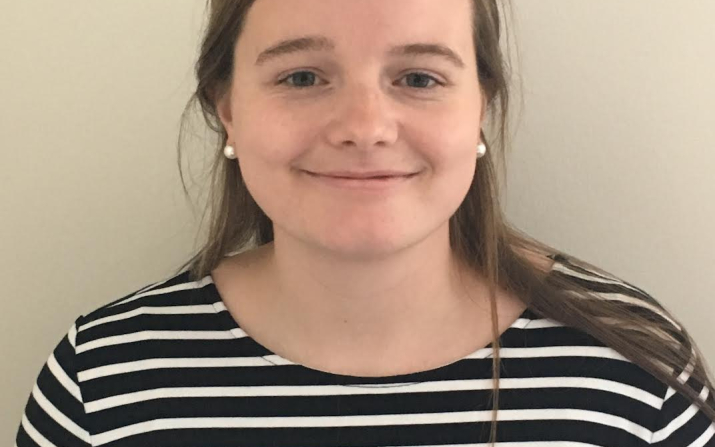 Published on
Jun. 17, 2022
On June 27, Hannah Sims will defend her Ph.D. thesis, "Process-Structure-Property Investigation of CP-Ti (Grade 2) Produced via High Depositions AM Laser Hot-Wire."
While working on her M.S. in Materials Science and Engineering at University of Dayton, Sims primarily studied materials used in airplanes and became interested in titanium. When she came to Case Western Reserve University to start her Ph.D. studies, her advisor, Professor John Lewandowski, had a project studying titanium open, and she was also intrigued by his group's additive manufacturing research focus.
Looking back at her time at CWRU, Sims is appreciative of the "hands on" experiences that were available in mechanical testing and microstructural analysis. To prepare for her thesis, she conducted a significant amount of mechanical property tests in the Advanced Manufacturing and Mechanical Reliability Center, as well as microstructure analyses in Swagelok Center for Surface Analysis of Materials and the MORE Center.
Sims is also thankful for creating strong relationships with peers, faculty and staff in the department and to have had an "outstanding" advisor in Lewandowski. "Everyone says your Ph.D. advisor is one of the most important parts about your graduate school experience and I got very lucky to get Professor Lewandowski as my advisor," she said. "Without him I would not be anywhere close to finishing my Ph.D. He has helped me grow technically and also as a researcher and scientist."
After Sims graduates in August, she will head to Albuquerque, NM, where she will start working as a postdoc at Sandia National Laboratory. Primarily interested in mechanical characterization and additive manufacturing, she hopes her postdoc experience will help her decide what she wants to do in the long term.
"I'd like to thank everyone in the department for helping me through the process," said Sims, who is from Akron, Ohio. "I think that having a strong support network is the only way to get through the Ph.D. process and I definitely have found one here."