Fifteen students receive data science scholarship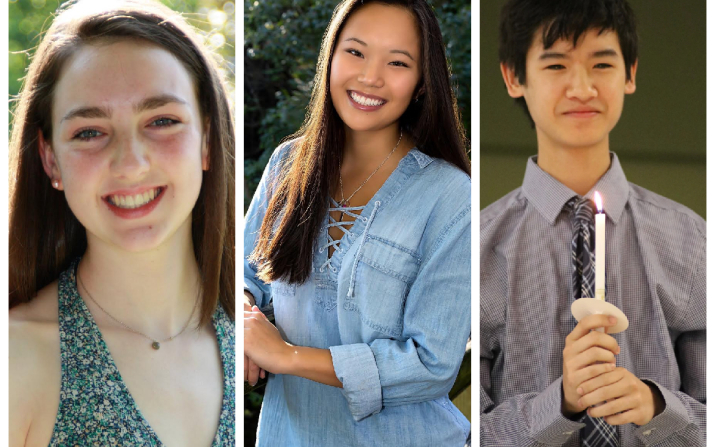 Published on
Sep. 14, 2020
Fifteen first year students at CWRU were selected for the Choose Ohio First Data Science Scholarship.  Although the recipients have only been on campus a few weeks, they are already becoming active members of the CWRU community.
Maya Rothchild, a recipient from Bexley, has already started wire fracture research with Professor John Lewandowski.  Rothchild was drawn to engineering and data science after taking an engineering class and two data science classes in high school.  "I enjoyed pulling everything together: from having a problem, to analyzing data, to creating a solution," she said.  A dancer as well as a scientist, she loves the atmosphere on the CWRU campus.  "Everyone here is so nice and welcoming, I just get caught up in the lively atmosphere... Case provides a great atmosphere for learning and exploration, so my opportunities are endless as a student here." 
Science runs in the family for recipient Jada Kleinholz of Dublin.  "I shadowed my father, an electrical engineer at Abbott Laboratories, and met a few data scientists that really opened my eyes to the possibilities within the profession and encouraged me to try it and see where it goes," she said.  She looks forward to hands-on experiences at CWRU, from classes to clubs to co-ops.  Kleinholz hopes to make a "concrete change" through work both on her own and with others during her time at CWRU, with a long term goal of "discovering or creating something that will benefit people in a way that's more than just luxurious, but truly constructive to their way of life."
Zach Fong, a Mayfield native, is passionate about both math and science and became interested in data science because "the intersection of the two naturally is the ability to utilize and draw conclusions from scientific experiments and research."  Fong, who has solved a Rubix cube in less than 30 seconds, looks forward to meeting new people at CWRU and hopes to take part in research that "directly benefits people in some way."
The scholarship is awarded to first year students who show an interest in Materials Science, Polymers, Mechanical Engineering, Computer Science, Data Science or other STEM fields.  Additionally, recipients must be Ohio residents who meet state and federal financial aid eligibility requirements.  Students who maintain good academic standing throughout their four years at CWRU will have their scholarships renewed each year.
During their freshman year, students take EMSE 110 with Associate Professor Jennifer Carter and EMSE 125 with Research Professor Laura Bruckman, the latter of which they take both fall and spring semesters.  Students continue their involvement with the Department of Materials Science and Engineering throughout their time at CWRU by adding an EMSE faculty member as a secondary advisor.  Academic and social events are held throughout the year for scholarship recipients.