CWRU, Ohio State form Transmission Electron Microscopy collaboration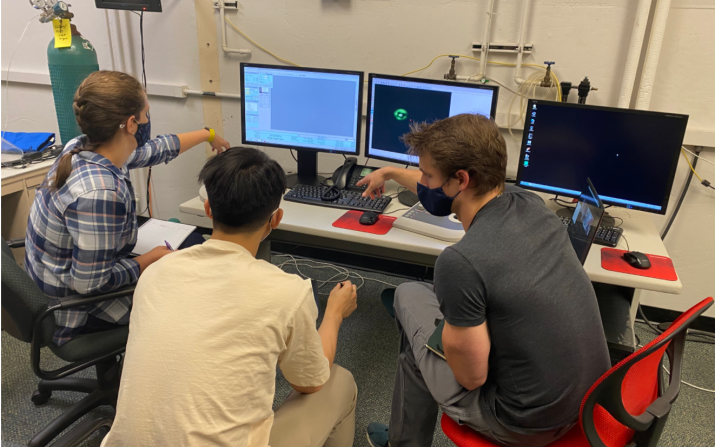 Published on
Oct. 13, 2021
When Jennifer Carter, Associate Professor in the Department of Materials Science and Engineering acquired a new Apreo 2S scanning electron microscope through a three-year, $673,711 Major Research Instrumentation grant, to support materials researcher across all disciplines of science and engineering, it required that four outdated instruments in Swagelok Center for Surface Analysis of Materials were sold to make room for the new instrument, including Case Western University's transition electron microscope (TEM). The College of Engineering has successfully maintained one or more TEMs that enable researchers across disciplines to explore the atomic building blocks of our universe since 1970 when a high-voltage TEM from Hitachi, the fourth of its kind in the USA was installed in the basement of the Olin building. 
However, Carter, now the faculty director of SCSAM, devised a novel method of providing researchers on campus access to the capabilities of a TEM while also being responsible steward of the federal, state, and industrial funds that might be needed to purchase these technologies. She found a way to leverage the existing fiber optic connection between CWRU and The Ohio State University that already enables researchers across the State of Ohio to utilize the Ohio Supercomputer located on OSU campus to also gain remote access to Ohio State University's TEM Facilities at the Center for Electron Microscopy and Analysis (CEMAS). This humble looking remote access station, though dwarfed in size compared to the two-story TEM that graced the campus community in 1970 provides CWRU researchers cost-effective access to world-renowned, state-of-the art instruments. This ushers in a potential transformative era of microscopy research centers in Ohio where the internet of things allows researchers across Ohio to gain access to the specialized instruments at other institutions that have capacity that exceeds the home institution's user base. In this way the Universities in the State of Ohio are no longer competing against each other for federal funding for instruments but all gain when one wins.
(left) The first CWRU students to get trained to operate the remote-access station for TEM analysis using instruments located at OSU-CEMAS in Columbus, OH. Though it is the sixth remote station connected to CEMAS, this is the first time PhD students have been able to enroll remotely in the TEM class for training because of the agreement between the institutions to enroll and transfer credit. (right) Photo of the three-story tall Hitachi high-voltage TEM installed in the Olin building in 1970 was the fourth of its kind at an institution in the USA.
Carter described transmission electron microscopy as "a method of looking at sub micron and even angstrom scale things, effectively, atomic building blocks of the world around us." When using the instruments, electron "light" is used for microscopy instead of photons of light. Electrons are transmitted through the sample, resulting in much higher resolution than any other technique. The wavelength of the "light" gives high spatial resolution, and nanoparticles and atomic interfaces can be seen. "This technique is very specialized and it's not one of those things you'll use for everything," said Carter. "Sometimes, it's the only tool that works."
Carter pointed out that linking centers in Ohio could allow every microscopy center in Ohio to be unique. For example, CWRU and SCSAM are unique for legacy expertise with analytical analysis of chemical states of materials with the XPS and TOF SIMS instruments, while Ohio State is known for its expertise in TEMs. Though this first endeavour creates a virtual link for CWRU researchers to use Ohio State's TEMs, if the need arises the virtual link can be modified for Ohio State researchers to use the SCSAM instruments that are unavailable to them locally.
"The partnership would not be possible without collaboration from both microscopy centers, and so many components of each University's operations," said Carter. "It's not as simple as 'if you build it, they will come,' we also had to communicate with, and establish methods of accommodating, almost all aspects of teaching and research at the university to make this possible." To successfully train CWRU Ph.D. students you have to consider the implications of students enrolling in, and getting credit for, a class at Ohio State to get training on microscopes.
"We are excited to enhance collaborative opportunities with Case Western Reserve University and the Swagelok Center for Surface Analysis of Materials through CEMAS's remote access capabilities," David McComb, the director of CEMAS and professor in the Department of Materials Science and Engineering at The Ohio State University. "Remote microscopy is having a significant impact on the way microscopy and other characterization techniques are taught and the way both industry and academia collaborate. We have well over $40 million worth of tools at CEMAS. That is a capability that needs to be accessible way beyond Ohio State. 
"I am excited to work with Professor Carter and the team at CWRU to amplify the impact of advanced electron microscopy in materials science and in other disciplines," McComb said. "Our facilities share a mission to promote and support interdisciplinary research by providing access to state-of-the-art analytical instruments and technical expertise. This partnership is a step toward fulfilling that mission efficiently and economically while extending CEMAS's educational resources across Ohio."
When it became obvious in early August that this idea was going to work and the remote station would be ready for students in the Fall semester, Carter and other SCSAM staff members had a short period of time to recruit students for this inaugural class. So they contacted Professors around the CWRU community to identify student researchers who could benefit from continuing TEM research. Currently, three PhD candidates are participating in the program: Laura Wilson of materials science and engineering, Yue Xu of biomedical engineering and Blake Martin of macromolecular science and engineering.
Wilson, whose main research interests include understanding the microstructure and crystallography of metallic materials, became interested in TEM study because "it provided a way to see the things I wanted to see, to answer the questions I had about the very small scale things I wanted to know about." She hopes to use the instrument to identify the interfacial mechanisms by which ~75 nanometer particles in her samples adhere to the larger particles in her feedstock for additive manufacturing. Understanding these interactions will provide insight into how engineers might be able to change the fraction of the nanometer particles to optimize performance.
"It's exciting to be part of a new collaboration," said Wilson, who has also used scanning electron microscopy. "This is what science should be about, sharing knowledge and tools."
Martin also felt "honored" to be one of the first students to participate in the program and "jumped" at the chance to use Ohio State's TEMs. "This partnership really filled in some gaps of characterization techniques that were previously absent from the campus's instrumentation," he said. He has been interested in electron microscopy since his undergraduate days and owns four copies of Transmission Electron Microscopy: A Textbook for Material Science by David B. Williams and C. Barry Carter. Williams was the Dean of the College of Engineering at Ohio State University from 2011 to 2020.
Martin, who is primarily interested in carbon-based materials, hopes to use the instruments to effectively probe materials' crystal structure and nanostructure. He is currently working with a carbon material that is a distinctive theoretical allotrope of carbon that has never been synthesized before and has proven to be difficult to characterize, due to the lack of protons and homogeneity. "Because of its lack of presence in literature and difficulty in characterizing via conventional means, I had to develop several digital models of my material and simulate its corresponding electron diffraction patterns," he said. "Using these models alongside experimental electron diffraction, or SAED, I have been able to effectively characterize my material primarily based off the periodic spacings of placement of its atoms. So all in all, my research would not be what it is today without TEM as it is effectively the backbone of my research." He hopes to better understand his material's structure based on how electrons interact with or scatter from it.
Xu, whose lab research focuses on fullerenol, a spherical nanomaterial with 2 nm in diameter, pointed out that TEM is the only microscope capable of imaging his nanomaterials. While working with the instrument, he hopes to image and identify the elemental composition of his nanomaterials, as well as studying the uptake and localization of the nanomaterials inside of a cell. "We have been looking for a TEM to image our nanoparticles for a long time," he said.
"I have been interested in TEM for a long time but never got a chance to use it," said Xu. "This program offers me an opportunity to understand the working mechanism of TEM from very basic science and to actually operate the TEM to image samples. It is my pleasure to be in the first group of students to take part in the partnership."
"The fact that these three students come from different departments, and have three different goals, highlights the versatility, value, and unique methods that the TEM makes possible," said Carter.
During her PhD studies at Ohio State (2008-2012), Carter used several of the university's TEMs, describing them as "some of the best in the country." She never got to use most of the new instruments at CEMAS, having graduated six-months before the center was established at its new location on campus. She was inspired to start a partnership between the two universities because of an event that happened when she was a graduate student: a power outage at Wright Patterson Air Force Base damaged the facility's TEM, so a temporary research station was set up to allow the base's samples to be sent to Ohio State.