Summer interns complete projects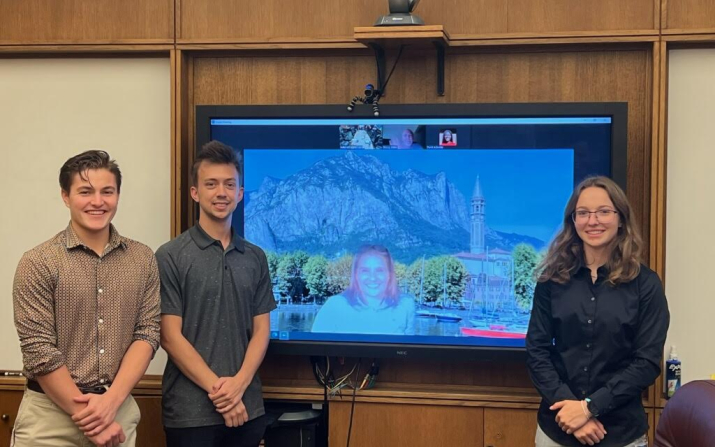 Published on
Aug. 5, 2022
Three summer interns from three different schools and varied lab experiences developed a synergy in Summer 2022 that their supervisor, Senior Research Associate Janet Gbur, described as "an incredible dynamic team that advanced their own projects and worked collaboratively to ensure everyone succeeded, while having a little fun along the way."
One member of the team, Mitchell Melander, was not a stranger to Case Western Reserve University's Department of Materials Science and Engineering, as he worked with Gbur on substrate mechanical characterization techniques for CWRU's NanoJet printer during the Spring 2022 semester. Melander's summer research primarily focused on using electron microscopes at CWRU's Swagelok Center for Surface Analysis of Materials to image particle-free silver ink. Using the microscope was one of the high points of his summer. "I found taking images up to 2,000,000 x magnification very interesting," he said.
Mitchell Melander presents his research at the Advanced Platform Technology Summer Internship Program Research Symposium.
Melander's internship at CWRU was part of the Cleveland VA's Wen H. Ko summer internship program. In addition to researching at CWRU, he spent a considerable amount of time at the VA's Advanced Platform Technology Center. He was also able to meet people from Neuronoff, a local startup company.
"I think the field of material science is important knowledge for any engineer," said Melander, who will continue researching with Gbur when he continues his biomedical engineering studies at CWRU in the fall. "Understanding the underlying properties of a material before using it in an application is critical." He looks forward to applying his materials science knowledge to his biomedical engineering studies.
Another biomedical engineering student, Gabrielle Hyatt came to CWRU for the summer from Binghamton University and also enjoyed using the scanning electron microscope. She praised SCSAM Engineer Tugce Karakulak Uz for being "an amazing teacher."
Gabrielle Hyatt
Hyatt's main project focused on developing a glove sensitive to temperature and pressure changes. In addition to developing a working prototype, she investigated improvement techniques for ink adhesion.
Working in the materials field for the first time, Hyatt is proud of how much she was able to get outside her comfort zone this summer. "I frequently was given a task I did not have any experience handling but I always seemed to figure it out along the way," she said. "To have the experience this summer where I thought I was unequipped to handle certain tasks and then be able to complete them and relatively successfully gives me more confidence in my abilities to handle whatever my future workplace throws at me. Even when out of my depth, everyone I asked for help was willing and happy to assist."
Hyatt praised Gbur for giving the interns the tools to handle their own projects, as well as for creating an environment where learning was the top priority. "She allowed each of us to do our own work in the way that made the most sense to us and then offered guidance from there," Hyatt said of Gbur.
Matthew Fabian, a mechanical engineering student at Youngstown State University, rounded out Gbur's group of interns. His research focused on developing a high-density connector for an implantable circuit system connecting sensory prosthetics to the nervous system. He spent a considerable amount of time designing testing fixtures that allowed mechanical testing of different parts of the system. He spent most days analyzing images, handling and preparing samples and reading, as well as doing optical microscopy and designing and printing fixtures in SolidWorks.
Matthew Fabian
Like his fellow interns, Fabian appreciated the opportunity to work on the scanning electron microscopes at SCSAM. He also enjoyed getting to do 3D and aerosol printing.
"I love materials science because it explains and understands how everything around us works," said Fabian, who is particularly proud of the static bend, tension and flex bending fatigue test fixtures that he designed over the summer. "I really enjoy testing and analyzing different materials to predict how they will behave too. (This summer) I got to actually do what I learn about in school." He hopes that his fixtures will help others working on similar projects in the future.
Fabian also praised CWRU's Department of Materials Science and Engineering for "an amazing environment that stimulates curiosity."