SDLE receives 4 Poster Awards at DOE NREL's PV Reliability Workshop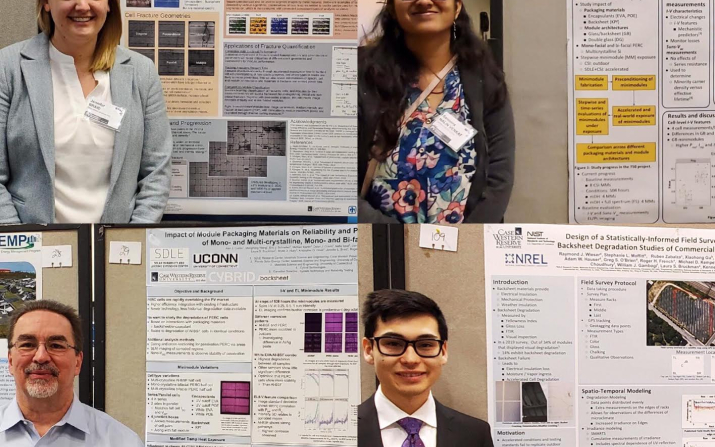 Published on
Mar. 24, 2020
SDLE members won four poster awards for their presentations at the 2020 Photovoltaic Reliability workshop held by the US Department of Energy's National Renewable Energy Lab.
Faculty members Jennifer Braid and Roger French, along with students Raymond Wieser and Sameera Venkat, traveled to Colorado for the three-day conference in February 2020.  Each attendee gave an oral or poster presentation.  The Case representatives were joined by individuals from around the world.
The conference consisted of poster presentations, question and answer sessions and meetings.  Throughout the conference, posters were on display in the ballroom at the host hotel so attendees could take a closer look during breaks at the end of the day.  There were 124 total posters at the workshop, including the four from Case that won awards.  Nine total awards were given, three for each of the three poster presentation sessions.
The posters presented were:
Alan Curran, Menghong Wang, Eric Schneller, Michael Martin, Dylan Colvin, Nafis Iqbal, Jianfang Dai, Jean-Nicholas Jaubert, Laura Bruckman, Brian Huey, Kristopher Davis, Jennifer Braid, Roger French, Impact of Module Packaging Materials on Reliability and Power Degradation Mechanisms of Mono- and Multi-crystalline, Mono- and Bi-facial PERC Modules, (2020).
Jennifer L. Braid, Joshua S. Stein, Benjamin G. Pierce, Nicholas A. Parrilla, Ahmad Maroof Karimi, Roger H. French, Quantifying Cell Fractures in Si PV Modules, (2020). 
Raymond J. Wieser, Stephanie L. Moffitt, Ruben Zabalza, Xiaohong Gu, Colleen O'Brien, Liang Ji, Adam W. Hauser, Greg S. O'Brien, Roger H. French, Michael D. Kempe, Jared Tracy, Kausik R. Choudhury, William J. Gambogi, Laura S. Bruckman, Kenneth P. Boyce, Raymond Wieser, Design of a Statistically-Informed Field Survey Protocol for  Backsheet Degradation Studies of Commercial PV Power Plants, (2020).
Sameera Nalin Venkat, Jiqi Liu, Nick S. Bosco, Jianfang Dai, William J. Gambogi, Brent Brownell, Yuan Gu, Jennifer Carter, Laura S. Bruckman, Jean-Nicolas Jaubert, Jennifer L. Braid, Roger H. French, Sameera Nalin Venkat, Towards 50 Year Module Lifetimes: Impact of Module Architecture and Packaging Materials, (2020).