Roger French receives University Distinguished Researcher Award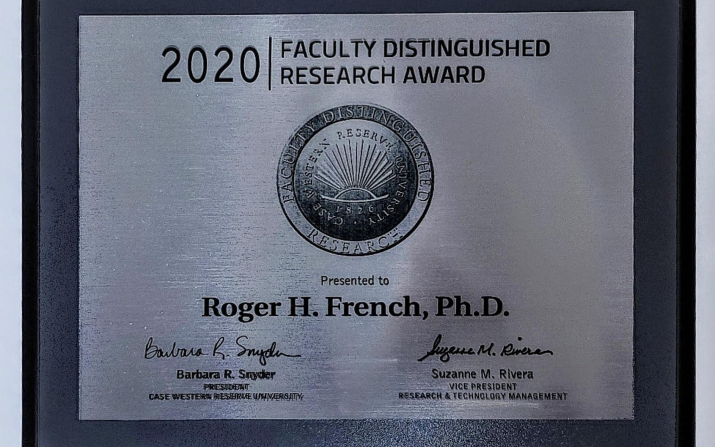 Published on
Apr. 22, 2020
Kyocera Professor Roger French was awarded the University Distinguished Researcher Award.
Every year, the university awards the University Distinguished Researcher award to a researcher in engineering, one in medicine and one in arts and sciences.  Every honoree receives a plaque and $10,000 for research.
French's research specialties are Optical Properties and Electronic Structure of Materials, Long Range Interactions, Degradation Science of Outdoor Exposed Technologies, Photovoltaics, Data Science and Analytics and Distributed & High Performance Computing.  He serves as the Kyocera Professor in the Department of Materials Science and Engineering, director of the SDLE Research Center and Faculty Director of the Applied Data Science Program. He has secondary appointments in Macromolecular Science & Engineering, Computer and Data Sciences, Biomedical Engineering and Physics.  He is also a fellow of the American Ceramics Society and a member of the International Energy Agency's PV Power Systems Program, Task 13 on Performance and Reliability.  
French has been director of the SDLE Research Center at CWRU since 2011 and a professor since 2010.  Prior to coming to CWRU, he was at DuPont Co.'s Central Research for 25 years. He is a graduate of Massachusetts Institute of Technology and Cornell University.