Newly renovated White Building reopens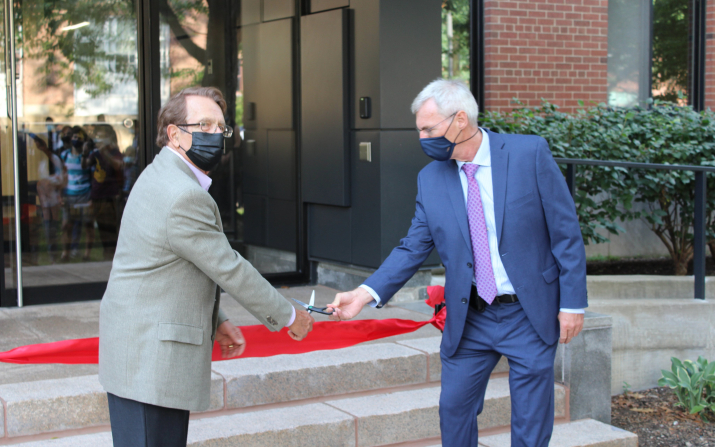 Published on
Sep. 9, 2021
When Frank Ernst came to Case Western Reserve University in 1987 as a postdoc scholar in the Department of Material Science and Engineering, he thought the department's main building—the Charles M. White Metallurgy Building—looked "fine and timely." When he returned in 2000 as a professor, however, Ernst, now chair of the aforementioned department, had a different impression of the building—one shared by Robert Smialek (CIT '65, GRS '67, 70, metallurgy & material science).
"I have visited the campus regularly over the past 50 years and am always impressed by the constant changes and the new facilities," said Smialek, the keynote speaker at the building's grand reopening event. "One thing that hadn't changed very much over those 50 years, until now, was the entrance and lobby area of the White building," he said.
White Building first opened on October 10, 1961, named after Charles M. White, a Case Western Reserve University trustee and former chair of the board of Republic Steel Corporation. Sir Alan Howell delivered keynote remarks, and T. Keith Glennan, then-president of CWRU, cut a ribbon of steel by a "firing bolt of high voltage electricity" to officially open the building.
In 2010, Jeffrey Duerk, then-dean of the Case School of Engineering, and James McGuffin-Cawley, then-chair of the Department of Materials Science and Engineering, realized the misalignment between the aspirations of the department's educational program and White's appearance. They recognized the need for a renovation, especially on the third floor, which includes classrooms, laboratories for mechanical testing, metallography, thermal analysis and heat treatment, as well as oxidation and corrosion labs. 
McGuffin-Cawley worked with a visiting committee to develop a concept for the renovation that Ernst characterized as having a "light, transparency, and airiness that enhances communication, and a feeling of well-being that facilitates educational and scientific interaction." Further, Ernst did not miss the opportunity to point out that,of course, materials play the most important role in this transition.
After years of planning, construction was set to begin in May 2020, but things looked uncertain when the COVID-19 pandemic hit. Fortunately, after a brief delay, the construction team began to work in November 2020 and finished by summer 2021, in time for the 2021–22 academic year. "Amazingly, everything worked as planned without a single crisis of timing or budget," said Ernst. "The renovation constitutes a phase of transformation that will energize students, staff and faculty. And to prospective students, it will present materials as the modern field it truly is."
After classes began in late August, materials students quickly flocked to the new student lounge, where they can be seen socializing and studying. Across from the lounge is a new laboratory, where EMSE 320: Materials Laboratory II sessions are being held this semester. The White Building also boasts a newly renovated entrance, conference room and offices for the chair and chair's assistant.
Smialek recalls the social importance of the student lounge from his undergraduate days, and the feeling of camaraderie when he ate lunch and played cards with other students. Current students, like Hugh Smith, feel the same way.
"It's great to have a home base again in the new lounge," said Smith, who will graduate with his bachelor of science degree in 2022. "Meeting up with friends there between classes has been a lot of fun," he continued.
Students and faculty were displaced during construction, with temporary office spaces and a makeshift student lounge housed in an old storage room—but it was all worth it in the end.
"The result of this renovation reconnects the appearance of our department to the cutting edge society-essential education and research that we represent in our field," said Ernst. "This will deeply impact both current and future students, allowing others to recognize the outstanding significance materials science and engineering has to society at large, and the brilliant career opportunities you have with a materials degree."
On August 31, the department held a grand reopening celebration—the first major School of Engineering in-person event since the beginning of the COVID-19 pandemic. The evening kicked off in Nord Hall with remarks from Ernst, Smialek and Venkataraman "Ragu" Balakrishnan, Charles H. Phipps Dean, Case School of Engineering. "In my time as department chair, this is the happiest day so far," Ernst told attendees in his welcome remarks. "This is a great day, a historic day for which we have been waiting at least 10 years."
Ernst pointed out that many people contributed to the renovation. McGuffin-Cawley and Duerk were credited with initiating the project, while Michael Dolsak, who formerly worked in the engineering school's office of development, was instrumental in finding donors to provide financial support. Once the project began, key leaders included school facilities officer David Conger, project lead Nicholas Christie and architect Ben Rantilla of Hasenstab Architects, Inc. Finally, Daniel Audia and Krill Construction Company carried out the construction. 
All the honorees were presented with champagne bottles as a token of appreciation from the department. "We were so fortunate to have the best possible people involved in every single category and every single step," said Ernst. "Now we need people who enjoy it, use it, and make it a productive success. That's where all of us, you, come in now."
Ernst credited donors as key figures in the renovation. Donors included:
The Estate of Barbara C. Eirls: This donation was given through an estate gift. A member of the Eirls family, James Eirls, graduated from CWRU in 1951 with a BS in metallurgical and materials science.
Clinton and Claudia Silverman: Clinton Silverman graduated from CWRU in 1969 with a BS in metallurgy and material science.
Jennie Hwang: Hwang earned her PhD in engineering from CWRU in 1976.
Case Alumni Association: Led by Stephen Zinram, the Case Alumni Association celebrates STEM at CWRU and focuses on fundraising, institutional leadership, responsive services, public relations, and programs for students and alumni.
Robert and Anita Smialek: Robert Smialek earned his BS (1965), MS (1967) and PhD (1970) in materials science from CWRU.
Siegfried Hecker: Hecker earned his BS (1965), MS (1967) and PhD (1968) in metallurgy from CWRU. 
DellBurt Kitzell: Kitzell earned his BS in metallurgy and material science from CWRU in 1964.
Michael Dolsak: The Vice President for Health Sciences Development at CWRU, Dolsak began his CWRU career in 2010 as the Case School of Engineering's Director of Development. 
Martha Mecartney: Mecartney earned her BS in metallurgical engineering and materials science from CWRU in 1979. 
"Whatever success I've achieved in my career is in large part due to the fine education I received here," Smialek said in his keynote address. "Whenever I visit the campus, it feels like coming home."
More photos from the event are available here.