Materials students help CWRU Class of 2022 team to victory in Hudson Relays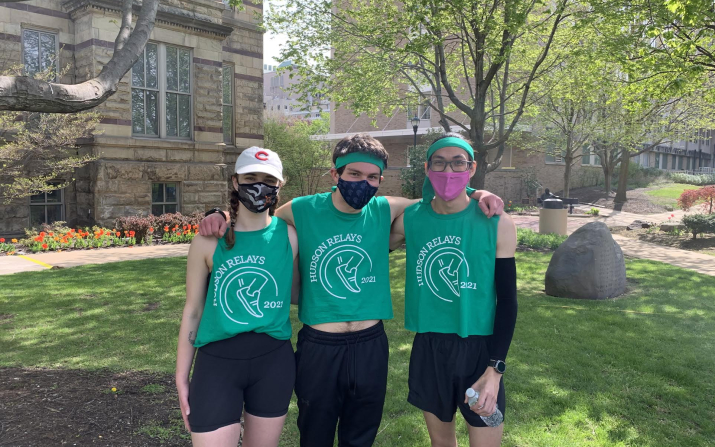 Published on
Apr. 27, 2021
Materials Science and Engineering students Winston Kam, Hugh Smith and Hayley Wagreich were on the Class of 2022 team that won this year's annual Hudson Relays, the longest standing tradition at Case Western Reserve University.
Due to COVID-19 restrictions, this year's race was shortened to a five mile race around campus rather than the usual twenty-six. Each class and an alumni team had a team of about ten members and each team member ran about half a mile. Kam and Smith were event veterans, having participated in the Hudson Relays in 2019. Wagreich has been running for eight years, has run in 5K races and was on her high school's cross country and track teams. Kam, a member of the Spartan Running Club who has run in 5K races, 10K races and half-marathons, including the 2019 Disney Half-Marathon, ran the final two legs of the race.
The students enjoyed the bonding that formed between the team members. "I did not know everyone on my team going in, but we all became close very quickly," said Smith. "Everyone also develops a bond with runners from other teams who are running the same legs. While I enjoyed celebrating the juniors' great victory, the best part was seeing everyone cheer for one another no matter what team they were on." Wagreich added, "This race was a really cool opportunity for us to get to know each other better and represent our class."
The team had some fun with their team shirts before the race, cutting off their sleeves and writing puns with their names on the back. Smith wrote "See HUGH later," while Kam wrote "WINston."
The first Hudson relays were held in 1910 to honor CWRU's move from Hudson, Ohio to Cleveland. Originally, the run was from Hudson to Adelbert Hall, changing in 1990 for safety reasons. Traditionally, if a class's team wins the race all four years, they receive a steak dinner courtesy of the President and Provost. Three classes have done so, most recently the Class of 2017. However, CWRU President Scott Cowen was so impressed with everyone's spirit that he promised all participants a steak dinner. 
Kam also appreciated everyone's spirit. "The friendly competitive spirit is also quite heartwarming to experience, we all want to win but also want to cheer on the other classes for a fast race." He mentioned that the Hudson Relays can be a bonding experience not only with teammates, but with other participants as well. "(The 2019 event) was a great opportunity to meet some alumni and upperclassmen I would've otherwise never gotten the chance to talk to," he said.
The event was streamed on the Hudson relays page of the CWRU website due to COVID-19. Students, faculty and staff could submit photos of themselves engaging in physical activity to be included in the livestream. "Even though everyone was masked the whole time, this event served to add some normalcy to my COVID-19 undergraduate experience," said Smith.
"You don't have to be a great or even a good runner to participate in the relays. It's more about class spirit and upholding a tradition than winning. So, anybody who wants to should participate and don't be scared about being a bad runner!" said Wagreich.