John Lewandowski receives Distinguished Teacher Award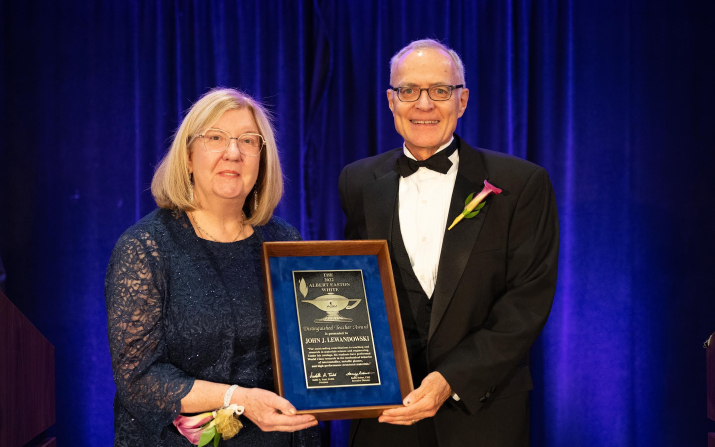 Published on
Oct. 7, 2022
When Distinguished University Professor John Lewandowski was an undergraduate student at Carnegie Mellon University, he became involved with the Pittsburgh Chapter of American Society for Metals, now known as American Society for Materials International. As an ASM student member, he began attending seminars, conferences and technical society meetings, where he began meeting other materials scientists. 
Ever since, Lewandowski has been an active ASM member. Praising the organization as "a good community in which to meet like-minded people," he recently received their annual Albert Easton White Distinguished Teacher Award. Named for a founding member of ASM, the award has recognized an ASM member's lengthy devoted service to teaching, significance in the materials field and impact on students each year since 1960. Lewandowski was honored to join a list of people who he described as "excellent teachers, but also effective mentors and researchers" who have received the award in the past, including the late Gary Michal, past Chair of Case Western Reserve University's Department of Materials Science and Engineering. There are also multiple past recipients with whom Lewandowski has collaborated over the years.
"This prestigious award confirms and adequately highlights what our students have experienced and highly appreciated for a long time: Professor John Lewandowski is an absolutely outstanding educator in our field of materials science and engineering," said Frank Ernst, chair of the Department of Materials Science and Engineering.
Dr. Bernard Bewlay, Chief Scientist for Materials Systems and Service Technologies at General Electric nominated Lewandowski "for outstanding contributions to teaching and research in materials science and engineering. Under his tutelage, his students have performed world class research in the mechanical behavior of intermetallics, metallic glasses, and high-performance structural materials."
"He has been a tremendously effective educator not just within the teaching environment at CWRU, but also across the whole technical community," Bewlay said of Lewandowski, pointing out that Lewandowski has given invited lectures at multiple international conferences and that he has strong collaborations with laboratories and university research groups around the world.
Praising Lewandowski for an "inspirational and motivational style," Bewlay described Lewandowski's research in the areas of processing/structure/property relationships in ferrous and non-ferrous materials with an emphasis on deformation and fracture as "world class."
As a teacher, Lewandowski is most proud of seeing how much his students grow during the course of their education. He has also mentored over 150 graduate students (MS, PhD) in addition to visiting scholars. "Some students come in with very little experience in materials, then go on to have great impact and have successful careers in industry, academia and government labs," he said. He also enjoys working with students from different cultural and educational backgrounds, publishing over 350 papers and giving over 1100 conference presentations with his students.  He is particularly pleased that he was able to co-author separate journal papers with his two sons, John Robert (EMAE '12, MEM '13) and Mark Edward (EMAE '16, MS '18).
"Professor Lewandowski's genuine interest and love of the fields of mechanical testing, failure analysis and metallurgy shine through in his courses and research efforts," said Ph.D. candidate David Scannapieco, who has been studying with Lewandowski for the past seven years. "His curiosity is unmatched and in my time in his lab we have taken in-depth looks at a range of applications from naval warship structures, NASA rocket combustion chambers, implantable medical devices, solar panels, and even the reliability of chair seats to the low frequency fatigue of sitting down and standing up. It takes a real passion and love for science and knowledge to be so capable at studying such a range of topics."
Austin Ngo, a Ph.D. student in Lewandowski's research group, praised his advisor for delivering lectures that are "densely packed with knowledge yet presented very clearly." 
"As a mentor, Professor Lewandowski not only teaches Materials Science and Engineering, he sets an example for conducting great research," Ngo added. "Many times I have come out of discussions with him inspired to pursue new research questions, whether a project is just beginning or nearly complete."
Jackson Smith, a BS/MS materials student studying with Lewandowski, praised him for being "one of the main reasons I have had so many amazing opportunities as an undergraduate." Having been a member of Lewandowski's research group since her sophomore year, Smith thanked her mentor for "great mentoring on how to conduct research, present research and write research papers." She believes Lewandowski played a role in helping her get a co-op at Nikon and a summer internship at Lincoln Electric.
"Dr. Lewandowski has always been invested in my success as a student and as a professional engineer," said Smith.
As a student in 1979, Lewandowski received ASM's metallurgical scholar award, the first of many awards he has received from the organization. Ten years later, he received the Bradley Stoughton Award for Young Teachers, three years after joining the faculty at CWRU. Though he was one of the Department of Materials Science and Engineering's new faculty members, he was already making his impact on the CWRU campus and in the materials community, as his research group members were attending many conferences to present their work. In 1995, he was one of several CWRU faculty members to be named an ASM Fellow based on his research and service to the materials community, as well as his visibility. Two years later, he received ASM's annual Silver Medal, an annual award for mid-career researchers, for his group's work on structural materials, intermetallics and manufacturing projects. He has appreciated the guidance and mentorship received over his career from colleagues at CMU, Cambridge University, and CWRU since 1986 when he joined the faculty.
In addition to the National and International Awards he has received from ASM, Lewandowski received the Cleveland Chapter's Technical Educator Award in 2010 and Award of Distinction in 2013. He has also served on numerous ASM International committees.
Lewandowski encourages current students to get involved with ASM International, pointing out that involvement with technical societies can help them find contacts in industry, academia and national laboratories. His students frequently present at ASM International conferences and have served on the Board of Trustees, including Scannapieco, who currently serves as student member on the ASM International Board of Trustees.
Recently, Lewandowski began leading the CWRU team of the ERC-HAMMER center (Hybrid Autonomous Manufacturing, Moving from Evolution to Revolution), a five-year, $26 million NSF Engineering Research Center (ERC) aiming to develop manufacturing technologies for industry, expand manufacturing capabilities and drive technical education and credentials for workers. The PI of the Center, Professor Glenn Daehn of The Ohio State University, recently received ASM's highest research award, the Gold Medal, for "outstanding knowledge and great versatility in the application of science to the field of materials science and engineering, as well as exceptional ability in the diagnosis and solution of diversified materials problems."