Jennifer Carter receives Mather Spotlight Award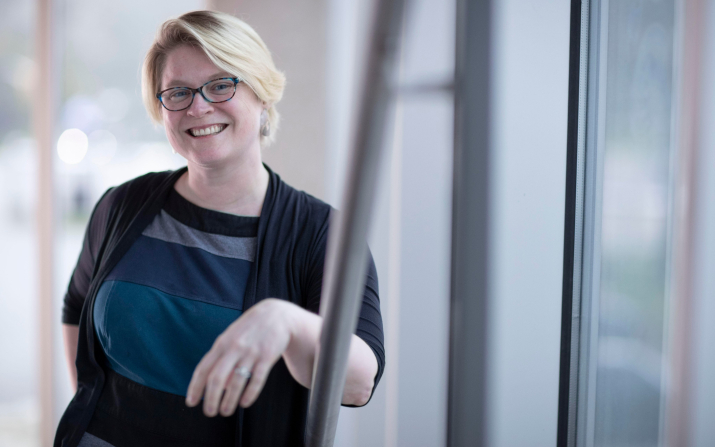 Published on
Oct. 29, 2021
Jennifer Carter, associate professor in the department of materials science and engineering at Case Western Reserve University, was named one of the Flora Stone Mather Center for Women's 2021 Mather Spotlight Award winners.
When accepting the award, Carter thanked the women who came before her in the field of materials science and engineering, as well as the women "who will come after." An academic advisor as well as a professor, she considers some of her "quiet" moments some of her greatest accomplishments, such as helping a student write a DOE proposal, convincing student she was "more than capable" of graduate school and being there for another in "dark moments" when said student "needed someone to remind her that she was amazing."
Carter pointed out that it wasn't until later in her career that she realized "not everyone had a mentor to reflect themself into." Her mother, an electrical engineer, was one of the few female graduates in her class at Mississippi State University.
"This award is well-deserved recognition of her exceptional contributions as a dedicated teacher, committed mentor, and innovative researcher, with significant positive impact on the Department of Materials Science and Engineering, the Case School of Engineering, and Case Western Reserve University," said Venkataraman "Ragu" Balakrishnan, Charles H. Phipps Dean, Case School of Engineering.
The first female professor ever to receive tenure in the department of materials science and engineering, Carter received a Presidential Early Career Award for Scientists and Engineers in 2019, the highest honor bestowed upon early career researchers by the United States government. The next year, she received a $673,711 Major Research Instrumentation grant from the National Science foundation that she used to bring a new Apreo 2S scanning electron microscope to the Swagelok Center for Surface Analysis of Materials, CWRU's core microscopy facility. 
In January 2021, Carter took the reins as SCSAM faculty director, taking on a center that was running a deficit and putting it on a path to revitalization. In addition to acquiring the Apreo 2S, she oversaw the sale of outdated instruments, worked with UTech to create covid-safe training methods on instruments and formed a partnership with Ohio State University's Center for Electron Microscopy and Analysis that allows CWRU researchers to conduct research using Ohio State's transition electron microscopes. Her efforts in SCSAM earned her the 2021 CSE Esprit de Corps Faculty Award, which is awarded to a faculty member who positively contributes to the CWRU experience.
Carter was nominated by three different individuals: Laura Bruckman, research associate professor in the department of materials science and engineering; Ina Martin, director of CWRU's MORE Center; and Clare Rimnac, Distinguished University Professor in the department of mechanical and aerospace engineering. "(Carter) mentors her female students to not only succeed, but to thrive in male-dominated engineering fields," said Martin. "From data science to microstructural evolution, in applications ranging from technical art history to materials for dentistry, Jennifer is fearless in her pursuit of excellent engineering. Further, she is endlessly encouraging to the research pursuits of others, and an engaged collaborator."
Rimnac met Carter in 2012 while conducting interviews for the faculty position Carter now holds. "From our first conversations, I knew she knew she was going to be one of our leaders," said Rimnac. Since Carter came to CWRU, the two women have shared multiple research and mentoring projects, as well as going for many walks together, including virtual walks during the COVID-19 pandemic.
Rimnac was particularly motivated to nominate Carter for the award when Carter became SCSAM faculty director. She praised Carter's success as faculty director, describing SCSAM as an "absolutely essential interdisciplinary facility."
Carter has spent her career advocating for women and underrepresented minorities in engineering. In 2019, she authored a publication entitled "The elephant in the room: Where is the empathy in science?" that addressed the increased emotional challenges underrepresented minorities face in STEM, as well as how STEM departments can support the mental health of their graduate students. In 2021, she followed that with a publication entitled "Material Goals Towards Equity Along the STEM and LGBTQIA+ Spectra". Reminding individuals that it is the prerogative of their institutions to enact policies and promote communities of inclusivity, while it is the responsibility of individuals to survive and thrive.
Every other year, the Mather Center presents the Women of Achievement Awards, in which two prizes are awarded: the Mather Spotlight Awards and the Notable Woman of the Year Award. The awards recognize women whose professional accomplishments, leadership or service have a significant positive impact on CWRU. A panel of past winners and Mather Center community advisory board members selects the winners. All winners receive a plaque and Mather Spotlight awardees additionally receive $500 in prize money.