Jennifer Carter receives CSE Esprit de Corps Award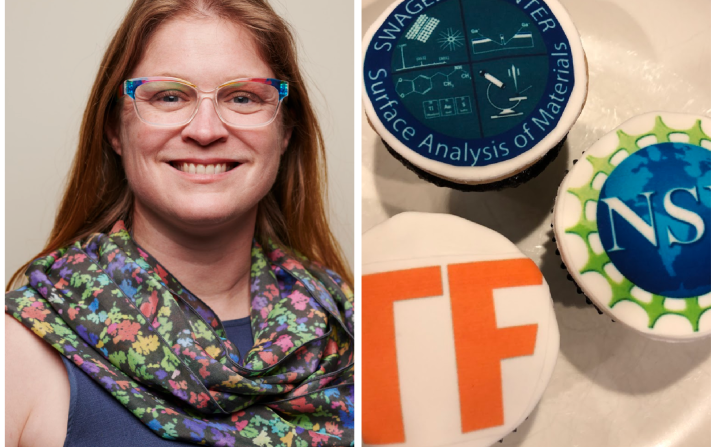 Published on
Jun. 7, 2021
Jennifer Carter, Associate Professor in the Department of Materials Science and Engineering and Faculty Director of the Swagelok Center for the Surface Analysis of Materials, received the Case School of Engineering's Esprit de Corps Award, which is awarded annually to a faculty member who positively enhances the CSE experience for students and colleagues. Carter was nominated by Cena Hilliard, CSE Associate Dean of Finance, Administration and Business Operations and Jeffrey Pigott, SCSAM Executive Director. 
When Carter became SCSAM faculty director in January 2021, she took a center that was running a deficit and put it on a path towards revitalization, using a data-driven approach to evaluate each methodology. Before Carter took on the position, she performed an extensive analysis of SCSAM functions. Once she began her new role, she got right to work on her goal of establishing SCSAM as a hub for materials research at CWRU. She quickly began working with UTech to create remote-access training so that students can be trained to use the SCSAM instruments while still adhering to covid-safe working protocols.
"I have truly enjoyed working with (Carter) since she became Faculty Director of SCSAM," said Pigott. "She has always been open and honest with the SCSAM staff and I really appreciate that. I am excited about her vision for the center and the enthusiasm that has been generated in the last several months.  It is great to see all that SCSAM has done in the last 5 months and I am looking forward to continually working with her to rejuvenate and grow the facility."
"It's a blessing to work with someone that exudes positive energy and can make others laugh," said John Kim, Senior Research Engineer in SCSAM. "Jennifer is not only supportive in SCSAM working with CWRU groups to assist with their research needs but also for the SCSAM members to grow and pursue the work members enjoy doing." He said the two best words to describe Carter are "fun" and "supportive."
A key addition to SCSAM during Carter's tenure has been the addition of a new Apreo 2S scanning electron microscope, which Carter acquired through a three-year, $673,711 Major Research Instrumentation grant from the National Science Foundation. This instrument is serving as a "bedrock" in SCSAM and is the only scanning electron microscope on the CWRU campus with all four in-operando stages: heating to 1100C, electrochemical reactions, electrical, and optical stimulation. Carter pointed out that microscopes with these capabilities tend to be at national laboratories rather than at universities, which puts researchers at CWRU in a unique position to collaborate on projects to understand and solve grand societal challenges. The instrument allows researchers working with electrically non-conductive samples to collect images of morphology and chemistry without needing a conductive coating, simplifying the sample preparation procedures. Additionally, a modular load-lock system enables researchers across the university, and particularly the users of the MORE Center's Nitrogen glove box, to transfer samples into the vacuum of the SEM without exposing them to degradation in air. 
To make room for the new instrument, four outdated instruments were sold. Carter created a new process for the sale of the equipment to an outside commercial entity that took her all the way to the Office of General Counsel.
The SCSAM staff members have appreciated Carter's leadership and spoken about how much she cares for them both personally and professionally. On the day that the new Apreo SEM arrived, Carter brought in specially made cupcakes for the occasion.
"(Carter's) enthusiasm is clearly infectious," Hilliard and Pigott said in their nomination. "She has boosted the morale of the staff, the research users and the administrative staff with whom she interacts in this role."
In addition to being SCSAM faculty director, Carter is director of CWRU's Mesoscience Lab, which focuses on understanding microstructural evolution and performance of interface-rich materials for extreme environments.  Her other research interests include grain boundaries; deformation mechanisms of metals and metal-matrix composites; fatigue, fracture, and creep; failure analysis; electron microscopy; 3D microscopy; novel methodologies for multi-scale material characterization; and data science and analytics. She serves on the department's undergraduate studies committee and teaches EMSE 110: Transitioning Ideas to Reality and EMSE 398/399: Senior Project in Materials.