Engineering Game winning student team includes MSE student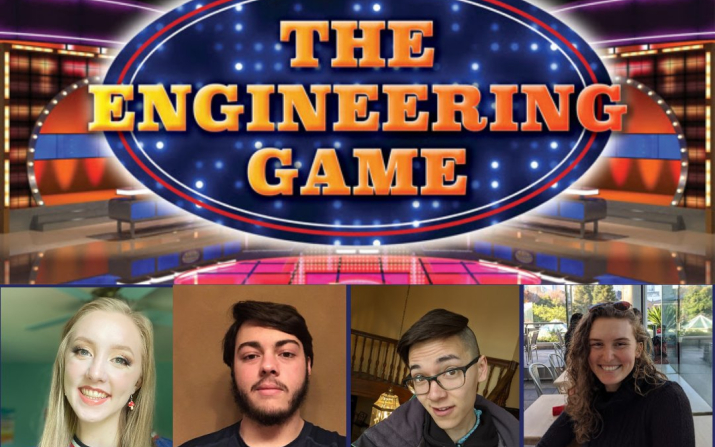 Published on
Feb. 26, 2021
One of the cornerstone events of the academic year for the Case School of Engineering is E-Week, which is coordinated annually by the Case Engineering Council to raise awareness and appreciation of the contributions of engineers to society.  A highlight of the week is the Engineering Game, where three teams of four - a team of students, a team of alumni and a team of faculty - face off to test their knowledge of engineering.  There are two rounds of the game: a Jeopardy inspired round and a Family Feud inspired round.  The student team included Connor Nee, a materials science and engineering student.
Nee, who is also a CSE peer advisor, was recommended for the student team by a fellow peer advisor.  "I figured that this might be a good opportunity for me to represent the CSE Peer Advising team and the Materials Science department, so I jumped at the opportunity."  Another peer advisor, Ali Sivilotti, a computer science major, was also on the student team, as were chemical engineering students Olivia Minner and Zack Russo.  "It was hugely helpful to have students from varied departments to really have all of our bases covered on the Back to Basics questions, but also so that each of us had a different approach to thinking about the questions," said Nee.  "Each of us knew different faculty well and have had a slightly different student experience with one senior, one junior, one sophomore, and one freshman on the team."
Prior to the game, the teams were provided with the categories for the Jeopardy section of the game and potential questions for the Family Feud section.  For the Family Feud section, students were given an opportunity to fill out a survey for input.  "It was great using our collective major-related knowledge to reach the best answers because it really highlighted the individual strengths of each student on the team," said Nee.  They particularly enjoyed the collaborative and team brainstorming aspects of the game.
While Nee expected the student team to do well, they weren't expecting the team to win.  They said that the student team "really banked" on the Back to Basics category on the Jeopardy portion.  They also expected to do well on the Family Feud portion because fellow students provided input to the questions in a survey.
In addition to participating in the Engineering Game, Nee has reached some milestones in their career as an engineer in the past year.  They will spend this coming summer as an intern at Y-12 in Oak Ridge, Tenn., where they will work on construction and deconstruction of nuclear weapons with Consolidated Nuclear Security.  This will be their second consecutive summer internship, as they interned at Howmet Aerospace in 2020.
Nee has also started their senior research capstone with Associate Professor Mark De Guire, studying Oxygen Transport Materials for in-line syngas production in the petroleum industry.  They will be graduating a semester earlier than planned this coming fall.  "I'm a little sad to see my time here coming to a close so soon, but very excited to get started working full time in manufacturing and industry after I graduate," they said.