E-Week events put the spotlight on the impact of engineering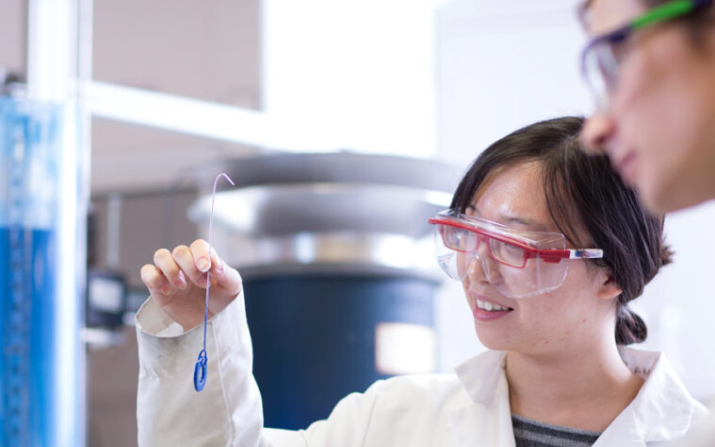 Published on
Feb. 16, 2021
If you hear lightbulbs breaking in Thwing Center or see a group of engineering undergraduates dashing around campus taking photos in the coming days, it can only mean one thing: E-Week is here.
Celebrated annually by the Case School of Engineering and coordinated by the Case Engineers Council (CEC), E-Week is a national event dedicated to raising public understanding and appreciation of engineers' contributions to society. This year's event is scheduled to take place Feb. 19–27, featuring the Department of Chemical and Biomolecular Engineering while highlighting the social and technological impacts that can be made through STEM.
Tommy Moawad, a senior computer science major and president of CEC shared that, "in light of the serious world events over the past year, we wanted to place an even greater emphasis on creating a brighter, more equitable future for everyone. Our theme—'A single action can cause a chain reaction'—allows us to highlight the recent advancements brought to us through chemical engineering, while also reminding us of our duty as engineers to use our creations to affect positive change to society."
As part of the celebration, engineering-focused student groups design and host events to highlight various aspects of the engineering field. Although this year's events are mainly virtual, the spirit of the celebration—bringing the campus community together—remains the same. Moawad noted that while the pandemic placed restrictions on in-person events, "sometimes people come up with their best ideas when they are under different constraints." 
This year's schedule of events includes some of the hallmark events that take place each year—retooled to ensure students can safely participate remotely or in-person. The students also engineered new events that are sure to become yearly favorites, including The Engineering Game: Student, Alumni, Faculty Showdown, featuring student, alumni and faculty teams competing against each other in both Jeopardy- and Family Feud-inspired competitions, a campus scavenger hunt, DIY kits and TED-talk style passion pitches.
In addition to the CWRU student-focused events, the E-Week calendar also includes the annual Engineering Challenges Carnival. Geared toward younger students ranging from elementary to high school, this year's carnival features 16 different events taking place via Zoom between Feb. 20-27. 
"E-Week is known for bringing together the entire campus community," says Moawad. "I like that our community can bring a competitive spirit to apply their creativity and problem solving to the different competitions throughout the week. Win or lose, we're all good sports, and it is inspiring to see the different ideas from our peers."
Ragu Balakrishnan, the Charles H. Phipps Dean of the Case School of Engineering, shared Moawad's enthusiasm, noting: "Over the last year we have seen the integral role engineering and science have played in combating a global pandemic. Events like our annual E-Week celebration shine a light on the important contributions engineers make to society on a global scale." 
He went on to say: "By the way—the engineering faculty team has The Engineering Game in the bag."
The full E-Week schedule, including registration information, is available online.