Crowell completes senior project, will continue M.S. studies at CWRU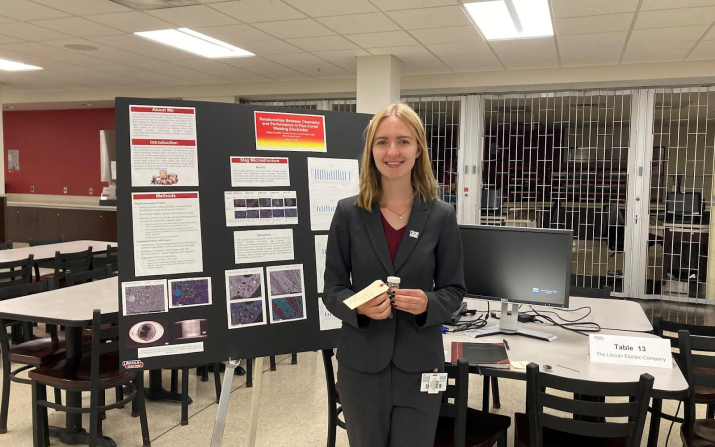 Published on
Dec. 2, 2022
Sylvie Crowell did not let the COVID-19 pandemic keep her from making the most of her undergraduate career. After working as a student technician in think[box], receiving a SCSAM fellowship and completing internships at Cotsworks, Parker Hannifin and Lincoln Electric, Crowell wrapped up her undergraduate career with her senior project, "Characterization of Sintering and Aging Behavior of Silver Nanoparticle Ink for Aerosol Printing."
Working with Distinguished University Professor John Lewandowski and Research Assistant Professor Janet Gbur, Crowell conducted research on the characteristics of silver nanoparticle ink, using scanning electron microscopes and transition electron microscopes in Swagelok Center for Surface Analysis of Materials to look at ink after aging and sintering. She also used ImageJ software for segmentation algorithms.
Having worked with Gbur since she was a freshman, Crowell considers her contributions to Gbur's FliP Lead project the biggest accomplishment of her undergraduate career. The project focuses on developing an aerosol printed flexible lead body for biomedical implantation, and Crowell has enjoyed "witnessing it develop from idea to reality."
After Crowell graduates with her B.S. in Materials Science and Engineering in 2023, she will stay at Case Western Reserve University to earn an M.S. through CWRU's BS/MS program. After completing her M.S. studies, she hopes to start a career in research and design.