Case Western Reserve institutes and centers highlight innovative programs during crowdfunding campaign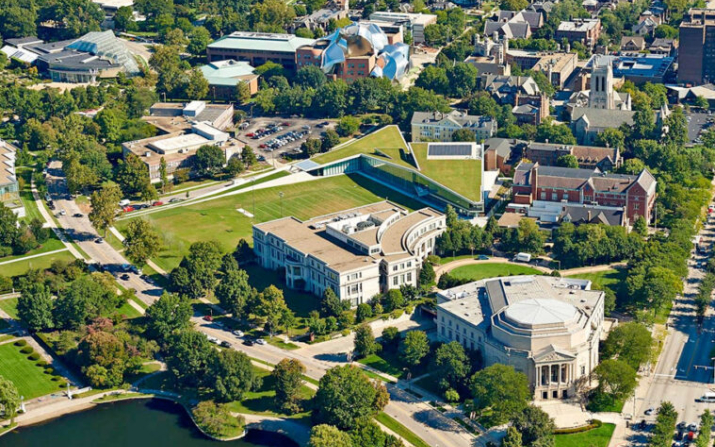 Published on
Feb. 15, 2021
This week, eight institutes and centers across Case Western Reserve University are launching a coordinated crowdfunding campaign designed to highlight specific needs in each of the areas while promoting their most innovative and collaborative work.
The Think Big: Institutes and Centers Campaign is a two-week effort featuring appeals from Interactive Commons, Human Fusions Institute, Larry Sears and Sally Zlotnick Sears think[box], Veale Institute for Entrepreneurship, Social Justice Institute, xLab, Institute for Smart, Secure and Connected Systems, and the Great Lakes Energy Institute. Each of the eight entities has identified an area where small gifts from a wide range of donors can have the greatest impact.
"Pathway 1 in the university's Think Big strategic plan is 'Ignite Interdisciplinarity,'" noted Mitch Drumm, interim vice president of research and technology management. "Our faculty are working on some of the most important work of our time—fairness and equity, the interface of human and machines, energy, and entrepreneurship. The institutes in this campaign represent some of the best interdisciplinary work on our campus."
The crowdfunding campaign, which ends Feb. 28, will help fund these eight initiatives:
Interactive Commons
Best known for creating visualization solutions for the mixed-reality device Microsoft HoloLens, Interactive Commons uses wireless headsets that display 3D holograms to blend the digital and real worlds. IC's proprietary technology, HoloAnatomy, is especially useful for the School of Medicine as a mixed-reality alternative to cadaver-based dissection. Due to demand from students learning remotely, student assistants who help develop software for HoloLens are unable to fully use this technology themselves because of a lack of hardware. IC's campaign seeks to outfit several student assistants with the tools they need to create the most immersive experience possible.
Social Justice Institute
Through the support and facilitation of social critique and civic engagement, the Social Justice Institute seeks to identify the causes and consequences of injustice while seeking solutions. The institute is attempting to fund two programs—the Graduate Student Fellowship and a Community Scholar in Residence—to provide resources for student research projects that serve populations near our campus and beyond.
Support Social Justice Institute.
Sears think[box]
A world‐class, public-access innovation center housed in a 50,000-square-foot facility on campus, Sears think[box] seeks to expand the Community Project Fund—providing resources for materials, equipment, manufacturing costs and other related expenses to community projects selected by a review committee.
Human Fusion Institute
Creating the next frontier of human development through NeuroReality™—a technology that connects a human's nervous system to a remote machine over a network—Human Fusion Institute is working to ensure that the next generation of human-tech relations improves humanity, creates safer work environments and ensures equitable access and inclusion to this developing technology. They are seeking support for student fellowships and talent development.
Support Human Fusions Institute.
ISSACS
The Institute for Smart, Secure and Connected Systems (ISSACS) seeks to catalyze efforts in Cleveland and Northeast Ohio and seize the multitrillion-dollar economic opportunity of the Internet of Things (IoT) with convergent thinking, behavior, and values at its core. They are seeking student and faculty project support, access to conferences and competitions, and course development.
Great Lakes Energy Institute
In addition to research, Great Lakes Energy Institute (GLEI) educates the next generation of engineers, scientists, and leaders to better manage existing and emerging energy resources through the ThinkEnergy Fellows program. This unique co-curricular program introduces students to energy professionals and career opportunities, and encourages them to tackle energy challenges through prototyping and pitch competitions.
Support Great Lakes Energy Institute.
Veale Institute for Entrepreneurship
One of the ways the Veale Institute serves students and the community is through the Remote Entrepreneurship Project Program, where students apply what they learn on campus to real-world businesses, particularly to help support underfunded minority entrepreneurs in and around the University Circle area.
Support Veale Institute for Entrepreneurship.
xLab
Through the Innovation Research Fund, xLab allows a multidisciplinary group of student interns from Weatherhead School of Management and Case School of Engineering and a project coach to help a company with a high-level digital innovation challenge they are facing. CWRU students who understand tech and digital will create a prototype for a digital innovation to address the challenge.
The impact of giving
"Students and graduates of Case Western Reserve are attracted to the incredible research that is explored by our faculty and the impact that it has on the world," said Anne Borchert, associate vice president of corporate relations and strategic projects. "This crowdfunding campaign shines a light on some of the incredible work taking place on our campus."
To learn more about the eight institutes and their initiatives, visit the Think Big crowdfunding campaign website. The campaign continues through the end of February.
(From The Daily 2/15/2021)