AMMRC Celebrates 35 years of Mechanical Characterization at CWRU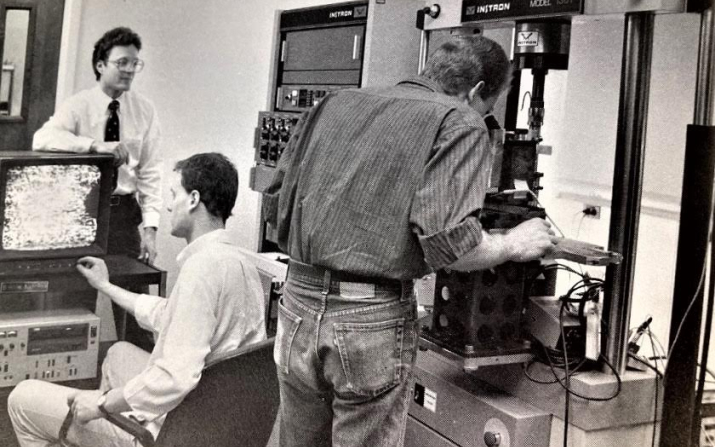 Published on
Jan. 31, 2022
Thirty-five years ago, then Materials Science and Engineering Assistant Professor John Lewandowski took the first steps to creating what is now the Advanced Manufacturing and Mechanical Reliability Center (AMMRC). A modest beginning on the second floor in the Charles M. White Metallurgy Building on the campus of Case Western Reserve University, the center housed two (2) early generation MTS servo-hydraulic machines, two (2) vintage screw-driven Universal Test Machines, and two (2) vintage Baldwin test frames. In addition, a vintage hydraulic press provided the capability of tension testing with superimposed hydrostatic pressure. The laboratory complemented the extensive microstructure characterization and metal casting facilities in the department and provided an opportunity for research activities to evolve with local industries and government labs while expanding university collaborations.
Lewandowski came to CWRU after doctoral work at Carnegie Mellon University and postdoctoral work at the University of Cambridge, UK in one of the largest mechanical characterization groups in Europe. His vision for the laboratory was to modernize and expand CWRU capabilities in mechanical characterization as well as deformation processing and advanced manufacturing. Those first years were focused on obtaining research funding to engage and hire research students and staff while growing and modernizing the facility to provide valuable scientific insights on various materials, including steels, aluminum alloys, metal-matrix composites, intermetallics, and other lightweight materials for structural applications. His early research team included: Hiroaki Kanai (M.S.), Young-Sub Kim (Ph.D.), Daw-Shuh Liu (Ph.D.), Chanqi Liu (Ph.D.), Jan Kajuch (Ph.D.), Joe Rigney (M.S./Ph.D.), Lisa Yost Ellis (M.S./Ph.D.), Dr. Mohan Manoharan, and Dr. Alexander Kharchenko. Expert staff help was provided by Richard Howe and Chris Tuma.
We invite you to join us in the AMMRC's 35th anniversary celebration as we celebrate decades of research, development, and Center milestones. Visit the AMMRC web site and keep watch on social medial for insights on the AMMRC through the decades as we share stories about the evolving laboratory and honor the efforts of the diverse academics, staff, and students that have propelled the AMMRC forward.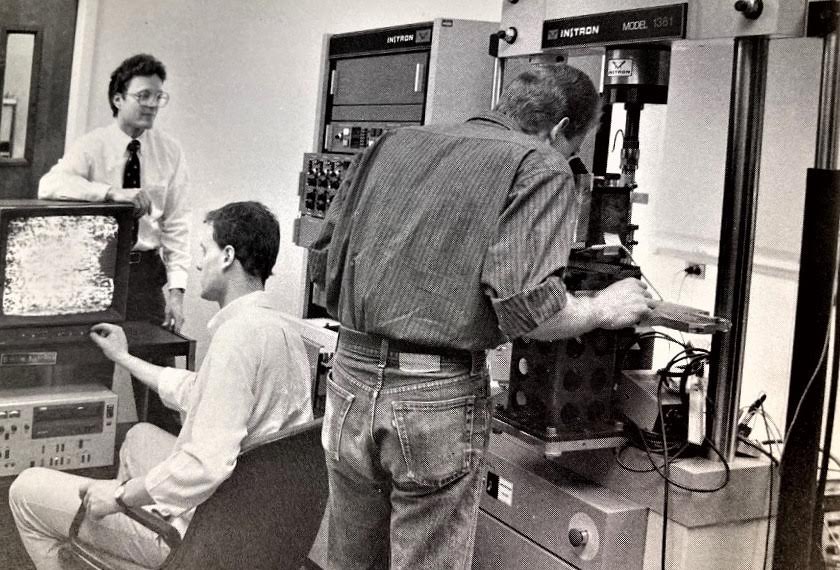 Early in-situ research of fracture behavior in advanced composites on an Instron 1361 electromechanical testing machine capable of test rates as slow as the rate of fingernail growth. Pictured are then Assistant Professor John J. Lewandowski (standing, left), graduate student Joe Rigney (seated), and undergraduate student Ken McClellan (standing, right). Reprinted with permission from Case Alumni Association, Case Alumnus Magazine.
Social media: Join us on social media for fun and engaging content that will help you discover the AMMRC's history and where it's heading in the future. #AMMRC35.