Alp Sehirlioglu named ACerS fellow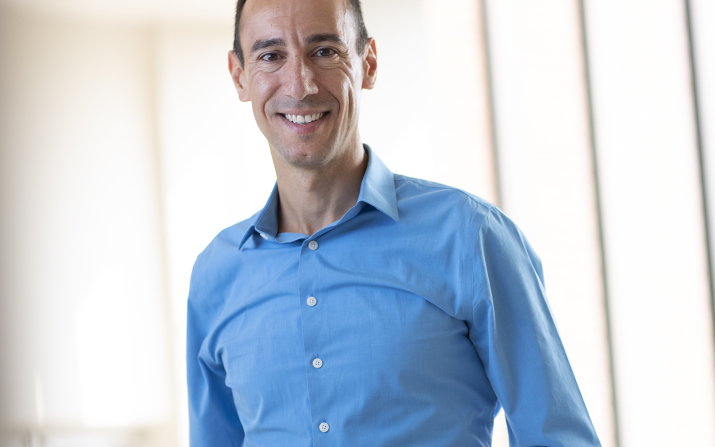 Published on
May. 23, 2022
Less than a year after Alp Sehirlioglu came to the United States to start his graduate studies, he attended the American Ceramic Society's 1999 conference and gave his first poster presentation, which focused on sol-gel coating of piezoelectric particles. Having not had similar conferences to attend in his native Turkey, he was enthralled to meet "big names" in the ceramic industry whose names he knew from papers.
That same year, Sehirlioglu, now an Associate Professor in Case Western Reserve University's Department of Materials Science and Engineering, joined the Society as a student member, and more than twenty years later, he has been named an ACerS Fellow. The Society describes Fellows as having provided "outstanding contributions to the ceramic arts or sciences; through broad and productive scholarship in ceramic science and technology, by conspicuous achievement in ceramic industry or by outstanding service to the Society."
"ACerS has been my society since I first came to the United States," said Sehirlioglu. "I received a lot from them as a student and it's important for me to give back to the current students."
Sehirlioglu was nominated for a fellowship by Clive Randall, Distinguished Professor of Materials Science and Engineering at Pennsylvania State University. "I've watched Alp develop from Ph.D. student to young faculty member," said Randall, also a society Fellow. "He's always pushed himself and developed some interesting work. The world keeps changing and he can keep up with that."
Fellow is not the first title Sehirlioglu has received from the Society. After spending his graduate studies years working at conference employment booths to collect resumes and set up interviews, he joined a group of like-minded young professionals like him to found the Society's Young Professionals Network and served as the aforementioned network's first co-chair.
Since 2016, Sehirlioglu has served as associate editor of Journal of the American Ceramic Society. As associate editor, he makes suggestions to the Editor about papers to publish based on reviews, as well as providing additional feedback to the authors. Having published papers in the Journal himself, he has been proud to see several of his Ph.D. students publish articles in the Journal as first author, including Kevin Pachuta, who graduated from CWRU in Fall 2020; Will Huddleston, who graduated from CWRU in Spring 2021; and Ben Kowalski, who graduated from CWRU in Spring 2017.
Additionally, Sehirlioglu spent five years as an officer in the Society's Electronics division, serving as secretary elect in 2017, secretary in 2018, vice-chair in 2019, chair-elect in 2020 and chair in 2021. As a division officer, he chaired the Society's annual Electronic Materials and Applications Conference in 2019 and 2020, which he described as a "very student-friendly conference." He has also organized a series of symposia in the same conference from 2016 to 2019.
Having attended conferences organized by Sehirlioglu, Randall appreciated Sehirlioglu's inclusivity. "He's very invested in developing the younger generation," said Randall, pointing out that the conferences not only had a strong student attendance, but a good number of postdoctoral scholars and young faculty members attending as well.
"I was glad to see so many students giving presentations," added Sehirlioglu, who takes student members, both graduate and undergraduate, of his research group to the conference annually. "It was great to see them interacting with industry professionals and other academics in a relaxed setting."
During his tenure as chair of the Society's Electronics division, he also organized the World Outreach Workshop, a free one-day symposium designed to increase research interactions in underrepresented countries. Focusing on 5G materials and beyond, the symposium featured speakers from across the United States, including a keynote address by Jessica Rosenworcel, acting chair of the Federal Communications Commission. The conference was streamed by attendees in  China, Columbia, Brazil, India and Africa, and Sehirlioglu hopes to see similar events held in the future.
Sehirlioglu will officially receive his fellowship at the Society's annual Materials Science & Technology Conference in Pittsburgh, Pa. in October 2022. "As a student, I appreciated what this society gave me and I was glad to be part of this incredible group of people," said Sehirlioglu. "It's an honor to be accepted as one of them."