Umut Gurkan attends first ever U.S. National Academy of Sciences' U.S.-Africa Frontiers of Science, Engineering, and Medicine Symposium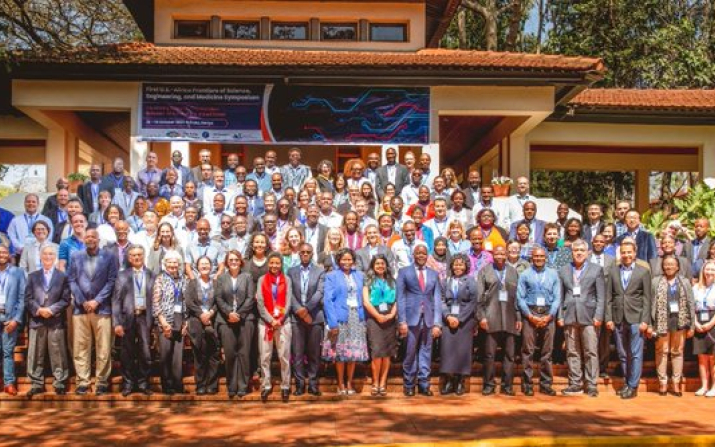 Published on
Dec. 12, 2022
Combining basic and translational research to solve problems
"We want to do basic research and connect it to real, unmet, actual needs of our modern times," Umut Gurkan, Wilbert J. Austin Professor of Engineering, said.
To do that, Gurkan's lab, the Case Biomanufacturing and Microfabrication Laboratory, focuses on both the basic science involved in discovering solutions for blood diseases, as well as translating that research so that it can have meaningful, real-world applications. (He recently led a team that invented a micro-engineered diagnostic blood-test tool that helps treat people who suffer from sickle cell disease.)
It's this approach that got him invited to the U.S. National Academy of Sciences' U.S.-Africa Frontiers of Science, Engineering, and Medicine Symposium in Nairobi, Kenya, in October. The symposium brings artificial intelligence, materials science, biodiversity, climate change and food security, and infectious diseases researchers together from the United States and Africa to inspire meaningful cross-disciplinary discussions and research collaborations. 
"What we have shown is that to be able to make these discoveries, you really need to cultivate an environment that is diverse and equitable," he said. "If you work on a disease that disproportionately affects one area, like sickle cell disease, you need a diverse team."
Now, as a member of National Academies of Science, Engineering, and Medicine's New Voices group, Gurkan will be the co-chair of the Arab-American Frontiers of Science, Engineering, and Medicine in October of 2023.
Gaining a new perspective 
After the symposium, Gurkan traveled to Uganda with two PhD students where they talked to local researchers, met with the Minister of Health and worked closely with university partners to evaluate their discoveries in the field and understand how to increase their impact. (Gurkan and his students' travel to Africa was kindly supported by Jay and Harita Patel Strategic Initiative funds.) Visits like this one help Gurkan "reset" and take his thought process for solving problems back to the basics.
"You can learn so much from seeing something from a different perspective," he said. "When I was driving to the hospital on unmarked dirt roads, all I could think about was 'would a self-driving car work on these streets?' Those are the types of questions we should ask ourselves. By being more inclusive you are helping other people, but you are really doing yourself a favor.'"
To expand the impact of his discoveries and tap into the unmet needs of those most impacted by sickle cell disease, Gurkan eventually hopes to establish a version of his lab in Africa.
"It's one thing to invent a technology to help diagnose a disease," he said. "But, if you can actually train the next generation of researchers on what we are doing here, the impact would be much bigger. They can then invent other technologies that are more suitable for the needs of their environment."