Spartan Showcase: Luke Traverso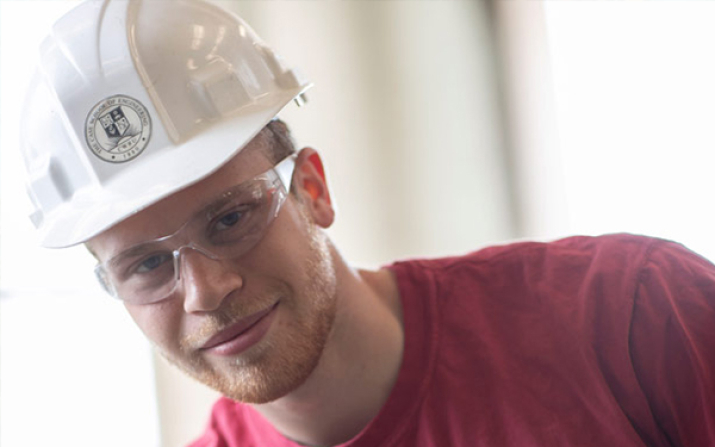 Published on
May. 25, 2021
Major: Civil engineering
Program: BS/MS
Year: Senior
In its 2021 report card, the American Society of Civil Engineers gave the United States a C rating for the structural integrity of its bridges. Luke Traverso, who is graduating from CWRU with his bachelor's in civil engineering this weekend, has his sights set on addressing that problem.
When considering his career path, Traverso was drawn to structural civil engineering as a means of designing structures that could help people in a tangible way. And as he took courses, his research pointed him to a refined focus: the rehabilitation industry, repairing existing infrastructure.
Since declaring this focus, Traverso has gained hands-on experience through his work at internships and with on-campus organizations. One such organization is the Case Western Reserve University Steel Bridge Team, a group Traverso joined as a first-year student. Through this group, he's taken part in an annual bridge-building competition hosted by the American Institute of Steel Construction. 
In the event, teams are challenged to build a 20-foot bridge with a focus on swift assembly, stiffness under a 2500-lb load and bridge weight. Though Traverso's  team faced a disappointing disqualification his first year, he and his teammates viewed it as an opportunity to do what engineers do best: problem-solve. 
Reworking their processes, the team went on to place second in the region the following year, advancing to nationals for the first time in university history.
"It was a very humbling experience to realize how much we need to rely on and work with people in life to create incredible things," said Traverso, who has been the team's head of fabrication since his sophomore year.
In the wake of the COVID-19 pandemic, Traverso and the team's other leaders experienced another shift in their leadership approach. With limited opportunities for in-person interactions, they focused on engaging members virtually and ensuring there would be an effective transition in leadership once senior members including Traverso graduated.
While the team's bridge in this year's competition failed at 92% load due to a fabrication oversight, Traverso is quick to put that in perspective. The team has gone from six members and a 50-minute assembly time in 2018, to a 20+ member team with just over 19 minutes for assembly in 2019, to this year's 12-member team completing assembly in just over 13 minutes. Interested individuals can watch the bridge come together in a video recap.
Traverso hopes falling short of success this year will serve as inspiration for future teams, just like the disqualification his first-year did for him.
"The goal was to inspire the next group to continue to improve on what the teams had accomplished during my time here," he said.Now, with commencement this weekend, Traverso is looking ahead to a co-op at Strinteg, a bridge inspection, analysis, and rehabilitation design company in Cleveland. After spending summer and fall at the organization, he plans to come back to CWRU next spring to complete the final semester of his MS program in the civil engineering integrated studies program.