Spartan Showcase Garrett Tieng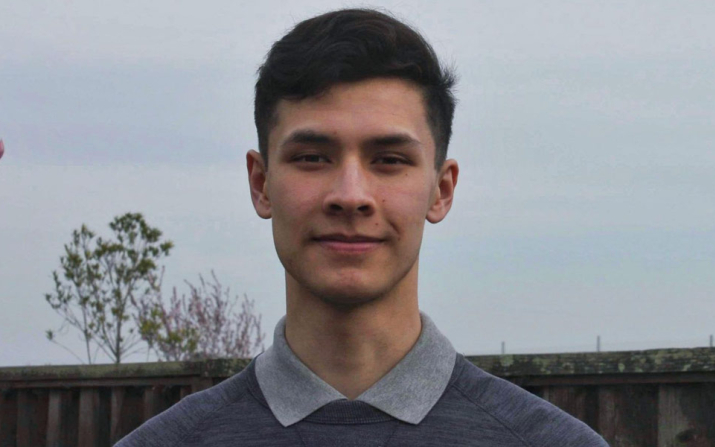 Published on
Mar. 16, 2021
Major: Mechanical and aerospace engineering
Year: First-year
Whether collaborating with friends on his Botball robotics team or reading up on the latest breakthroughs and advances in his field, Garrett Tieng has been exploring his passion for engineering—and the ways it can open doors for others—since high school.
In 2017, Tieng seized the chance to take his exploration to the next level and lead others on a path of discovery with Robotics for All, a nonprofit collective of volunteers launched by former high school robotics teammate Maximilian Goetz. The group provides free STEM education to students who might not otherwise have the opportunity to learn about robotics, particularly students of underserved communities, to close the opportunity gaps to exploring STEM at an early age.
In his roles as a teacher and vice president of the organization, Tieng connects with local youth who learn to share his enthusiasm for cutting-edge technology. Breakthroughs in the field remind Tieng of his original inspiration: science fiction. Growing up with shows like Star Trek intensified Tieng's desire to expand humanity's reach and go where no man has gone before.      
"Of course, my expectations have since been tempered, if only slightly," Tieng said, admitting that space exploration may not reach the romanticized heights of the fiction he grew up with just yet. Even so, Tieng hopes to inch society closer to that goal and sees robotics and aerospace engineering as the way to get there.
Tieng's first lessons through Robotics for All taught children the fundamentals of robotics by allowing them to experience it for themselves with Lego Mindstorms EV3 kits.
"It was such a joy to be able to share my passion with students who otherwise may not have been able to experience robotics," he said.
From his time in the classroom, Tieng discovered a love for teaching and educating. He continues to carry this passion into his role as vice president, where he aims to bring the organization's mission to underserved communities nationwide. Tieng created a Board of Directors to give the organization more structure and helped to transition classes to an online format when COVID-19 limited in-person opportunities.
Robotics for All has grown to over 220 volunteers since the move to online learning and has seen a surge in interest since the beginning of the pandemic. A running tally on the nonprofit's website shows that more than 760 K-8th graders have been taught through the online courses alone, surpassing the 528 students that had the opportunity to be in-person before the switch. Tieng currently oversees the development of curricula for online coding classes and is waiting for the next chance to hop into an in-person classroom environment.
Now a mechanical and aerospace engineering major, Tieng continues to grow his own knowledge of the field as a member of the Case Aeronautics Team, where he helps design planes for competitions and memes with his friends, and he hopes to become more involved with other clubs and research when the campus is fully open.