Remembering Tom Kicher, first dean of the Case School of Engineering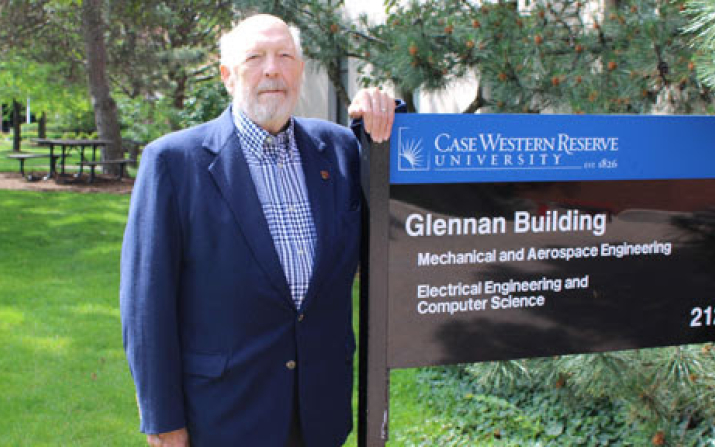 Published on
Feb. 22, 2022
Former dean served his alma mater as teacher, researcher and guiding light
Former Dean Tom Kicher (CIT '59; GRS '62, mechanical engineering; GRS '65, engineering), a long-serving faculty member at Case Institute of Technology (CIT) and Case Western Reserve University and a shaper of the modern Case School of Engineering, died Feb. 19 at the age of 84.
Widely known as the engineering school's elder statesman, Kicher joined "the Case family," as he called it, as a student some 65 years ago and went on to serve the institution as a teacher, researcher, administrator and change agent.
He led the committee that wrote the white paper that created the modern Case School of Engineering in 1992, then served as the school's first dean. He remained active at Case Western Reserve long after retiring in 2005 as the Arthur P. Armington Professor Emeritus of Engineering.
Kicher and students on the cover of Case Alumnus in 1992
Kicher was a lifetime member of the Board of Directors of the Case Alumni Association, which awarded him its Silver Bowl, the association's highest honor, in 2018. He was a contributing writer to Case Alumnus and a familiar face at the offices of CWRU University Archives. At the time of his death, he was working on a history of the engineering school for the Kelvin Smith Library.
News of his passing sparked tributes from former students and colleagues and from alumni and admirers far and wide.
"First of all, he was a teacher. He was a wonderful teacher," said Michael Diamant (CIT '68), who first met "Professor Kicher" as a sophomore. "But he was also a wonderful, wonderful man."
Diamant chaired the visiting committee of alumni and industry leaders that helped guide the Case School of Engineering in the 1990s, as Dean Kicher managed the transition from Case Institute of Technology.
"He was the right guy at the right time to put these things together," said Diamant. "He didn't have an ounce of guile in his body. Tom only wanted the best for the School of Engineering and for the university. And he was highly regarded by alumni, by anybody he worked with."
Sunniva Collins (GRS '91, '94, materials science and engineering) came to know him best through the Department of Mechanical and Aerospace Engineering, where she's an associate professor. Kicher, as an emeritus professor, engaged with faculty long after his retirement.
"Always a calming presence," she said. "He said to me that being a professor at Case is the best job in the world. He said we get to know these bright young people when they're just starting their careers and we can help them. I think he really took that to heart."
Many others will miss his guidance, including Venkataramanan "Ragu" Balakrishnan, the Charles H. Phipps Dean of the Case School of Engineering.
"I was lucky enough to meet Tom soon after I joined the Case School of Engineering, and have continued to meet with him over the past three years," the dean said. "Tom was warm, funny, wise and kind, a true Case engineer, and I am grateful to have had the chance to know him.  He will be missed."
Born Oct. 20, 1937, Kicher was raised in Johnsonburg, a small mill town next to the Allegheny National Forest in northwest Pennsylvania. He arrived at Case Institute of Technology in 1955 and earned three engineering degrees, including a doctorate. In an earlier interview, he said he fell in love with CIT and the University Circle neighborhood.
"I was exposed to a lot of things I'd never been exposed to," he told Case Alumnus in 2018. "Arts, culture, the sciences. I could approach almost anyone and ask questions. It was an ideal place for a young boy from a small town. Case changed my life."
He joined the faculty in 1965 as an assistant professor of engineering, then later became an associate professor and, in 1979, a full professor. Kicher also served as chair of the Department of Mechanical and Aerospace Engineering and as the associate dean of science and engineering from 1974 to 1979.
"I figure I've held more and varied roles on this campus than just about anyone," he once observed.
He met his wife, Janet, at CIT and watched all three of his children graduate with degrees from the university.
As a faculty member for 40 years, he especially connected with international students, who often sought out his guidance. As dean, he guided the esteemed Case Institute of Technology into a new era, under the umbrella of Case Western Reserve University.
Curious and contemplative, the Willoughby, Ohio, resident dove more deeply into the school's history later in life, tapping his vast breath of experience. As a student in the 1950s, he once observed, he had professors who had taught at Case (both Case School of Applied Science and Case Institute of Technology) since the 1890s.
In 2019, he wrote the cover story for the spring issue of Case Alumnus, exploring the Case family and Leonard Case Jr.'s role in the launch of the Case School of Applied Science in 1880. The Case Legacy proved so popular that the association commissioned a rare reprint.
Kicher is one of the principal contributors to Case School: An Evolving History, a multimedia project led by the university library and housed online at scalar.case.edu/caseschool/index.
He was also the vice president of an engineering consulting firm, Kicher & Co., where he worked alongside his son, Paul (CWR '91), until recently.
A fellow of the American Institute of Aeronautics and Astronautics, Kicher was also a member of the American Society of Mechanical Engineers, the Society of Experimental Mechanics, Sigma Xi, Theta Tau, and Theta Beta Pi.
He is survived by his wife, Janet; his son Paul; daughter Laura Chamberlin (CWR '93; GRS '93, mechanical engineering; MGT '99); and five grandchildren—Mackenzie and Peyton Kicher and Macey, Regan, and Keely Chamberlin. He was preceded in death by his daughter, Rita (MGT '91).
Many former students still recall their Kicher encounter. For Ram Fish (CWR '95; GRS '95, computer engineering) it came when he sought to enroll in an unusually large number of courses to finish his degree program early, as he could not afford tuition. When his advisor balked, Fish went to the dean's office.
He said Kicher weighed his proposal for three days, contacting references, before approving. He also steered Fish to Roger Cerne, who arranged a loan from the Case Alumni Association.
Kicher and his wife, Janet
Fish graduated with bachelor's and master's degrees in computer engineering and became a technology pioneer in Silicon Valley. He has never forgotten the administrator who believed in him.
"I am very grateful to Dean Kicher," he said. "He listened to me. He was willing to work around the system to get something done for a student."
Stephen Zinram, executive director of the Case Alumni Association, said he has lost a mentor who knew how to get the best out of people.
"He listened to your question and always gave a well thought out answer, often an anecdote," Zinram said. "He never rushed into an answer, but instead he became the professor who led you down the path and helped you find the answer."
Carol Moss, senior vice president for University Relations and Development, met Kicher when she arrived on campus in 1996. He was her first boss and became an advisor and friend.
"The most important lesson that I learned from Tom is the value of relationships and building trust," she said. "To this day, I cherish the relationships built during those early years of my career at CWRU, including my friendship with Tom. He will be dearly missed by all of his friends and colleagues." 
You can honor the memory of Tom Kicher with a contribution to the Class of 1959 Scholarship Fund. The fund, which Kicher helped create, assists fourth-year students facing unforeseen financial challenges.