2023-2024 ThinkEnergy Fellows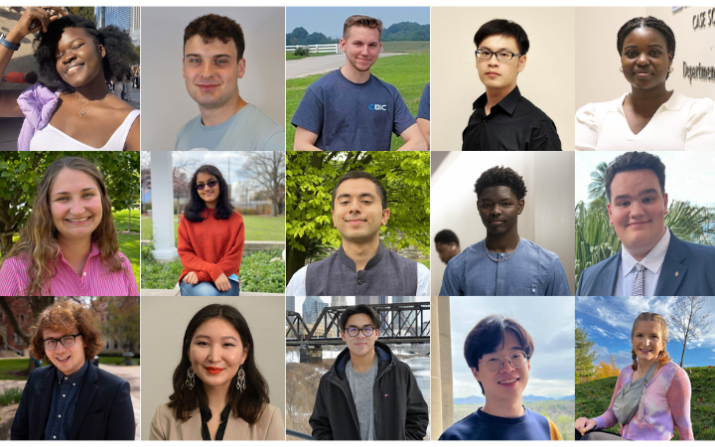 Published on
Aug. 30, 2023
Meet the fellows: 
Jube Augustino
Third-Year
Major: Biomedical Engineering
Minors: Applied Data Science and Polymer Science and Engineering
Jube Augustino is from Juba, South Sudan. She is excited to join the ThinkEnergy program to obtain the necessary knowledge and skills on energy and sustainability. Being from the youngest country which relies heavily on petroleum, Jube is hoping to explore sustainable and renewable energy options such as hydroelectric and solar power. Currently, Jube is an undergraduate researcher in Solar Durability and Life Extension (SDLE) center working on fluoroelastomers research. She is part of several organizations on campus such as CWRU UNICEF, African Student Association and Undergraduate Research Society. During her free time, Jube loves reading novels, going to the gym, playing basketball and hanging out with friends. 
Adam Goodman
Fourth-Year
Major: Electrical Engineering
Adam is a senior electrical engineering student from the Greater Seattle Area. As a fellow, he is excited to combine his passions for technology and policy to learn more about how entrepreneurship can mitigate climate change and its effects. Adam is the president of the Amateur Radio Club and a member of Engineers Without Borders. He's also performing materials data science research under Dr. Laura Bruckman. Previously, he interned at companies within energy storage and distribution, and founded a company that made custom silicone molds using additive manufacturing (3D printing) methods he developed. Outside of his academic and professional involvements, Adam enjoys going for walks and making art with a laser engraver built from a broken 3D printer. Adam's other qualifications include holding a Level One Rocket Certification and being a retired llama babysitter.
Matt Hoffman
Fourth-Year
Major: Materials Science and Engineering
Minor: Data Science
Matt Hoffman is a Cleveland native, studying Materials Science and Engineering with a minor in Data Science with plans to pursue the combined BS/MS Materials Science and Engineering graduate program at CWRU. His undergraduate research has been focused on assisting with materials data science projects and developing technological systems that can enable exploration into novel cold-sintering methods and material combinations under Professor Alp Sehirlioglu. In addition to undergraduate research, he spent time on co-op in 2021 with the Battery Innovation Center Inc. researching new anode and cathode material systems in lithium ion battery technologies, and co-oped in 2022 as a manufacturing and sustaining engineer with First Solar. As a ThinkEnergy Fellow, Matt is looking forward to the opportunity to work with and learn from other like-minded and talented individuals interested in making a difference in the renewable energy space. Outside of class and research, Matt loves playing and listening to music, training for endurance athletic events, and studying philosophy.
Kang Shen
Fourth-Year
Area of Study: Mechanical Engineering
Kang Shen is a fourth-year PhD candidate from Jiangsu, China. He is a member in both the Laboratory of Sustainable Energy Manufacturing and the Industrial Assessment Center led by Chris Yuan. His research focuses on electric vehicle and lithium ion battery simulation, energy analysis, and life cycle assessment. He is excited to join the ThinkEnergy Fellowship cohort since it offers a unique opportunity to collaborate with researchers, industrial partners and policy makers to develop sustainable energy solutions for a better future. Outside of class, he is a reviewer of both International Journal of Life Cycle Assessment and Procedia CIRP. In his free time, Kang enjoys cooking and staying with his cat.
Courage Kusena
Fourth-Year
Major: Civil Engineering
Courage Kusena joined CWRU in fall 2022 through the dual degree program where she studied art history with a mathematics minor at the College of Wooster and is now studying civil engineering here at Case Western Reserve University. Courage is interested in building technology, an emerging field in civil engineering. With career interests in infrastructure development in the African continent, Courage believes that bringing different minds from different fields together is an efficient way to solve the world's problems, which is how she became interested in the ThinkEnergy Fellowship. Born and raised in Zimbabwe, Courage is no stranger to the energy problems of the world but this is the first time she'll be on the other end of it, in the capacity of thinking of solutions. She is excited to learn about the potential solutions other people have on their minds and learn more about the field of energy and how it impacts our world. In her free time, Courage enjoys reading, listening to podcast, and having discussions and deliberations about the fields she's interested in. She is a member and the public relations officer of the American Society of Civil Engineers (ASCE)'s student chapter here at CWRU.
Lexi Knight
Fourth-Year
Area of Study: Chemistry
Lexi is a fourth-year PhD candidate in the Department of Chemistry working under the advisement of Geneviève Sauvé. She received her B.S. in Chemistry and Anthropology in 2020 from the University of Pittsburgh. Lexi's research focuses on organic solar cells and flexible optoelectronics. Through the ThinkEnergy fellowship, she looks forward to better understanding the commercialization process and exploring large-scale renewable energy projects. Outside of research, Lexi is the president of the Chemistry Graduate Student Association. In her free time, she likes to explore new restaurants and play with her cats, Mac & Cheese. 
Vibha Mandayam
Third-Year
Major: Data Science and Analytics
Minor: Computer Science
Vibha Mandayam is on a mission to address climate issues. Growing up in Stow, Ohio, she enjoys hiking in the Cuyahoga Valley National Parks, where she developed a passion for nature and sustainability. At CWRU, she works in the Solar Durability and Lifetime Extension Center as part of the CASFER project, studying nitrogen-based fertilizers and their impact on the environment. On campus, she is the vice president of the Undergraduate Diversity Collaborative's Campus Initiatives Committee, working to support diversity and sustainability-related initiatives in the community. Through the ThinkEnergy fellowship she aims to apply data science to the issue of integrating renewable energy into the existing electrical grid system. In her free time, she enjoys fashion design and reading mystery novels.
Sohum Mehta
Second-Year
Major: Chemical Engineering
Minor: Electrochemical Engineering
Sohum is originally from Chicago, Sohum and passionate about renewable energy and battery storage for combating climate change. Currently, he researches lithium reactions on surfaces inRobert Warburton's lab to enhance lithium-ion battery performance. He is also involved in the Citizens Climate Lobby, a grassroots organization that advocates for climate action policies. Sohum is eager to learn entrepreneurship skills and benefit from weekly sessions with professionals from different areas within the energy industry! In his free time, Sohum enjoys weightlifting, playing basketball, and speaking Chinese. 
Keno Oki
Second-Year
Major: Biomedical Engineering
Keno Oki is from Houston, Texas, but lived in Nigeria for most of his childhood before coming to the US for college. He developed an interest in energy after his firsthand experience of the energy drought in Nigeria, and he is very interested in finding better ways to assist in the country's progression. He sees ThinkEnergy Fellows as a way he can learn more about energy and engineering and gain experience in the engineering industry as a whole. Outside of school, he is very interested in soccer and basketball, and he enjoys quality time with friends and family.
Ryan Seymour 
Fourth-Year
Integrated Masters of Finance 
Ryan is a rising fourth-year BS/MF student from Marion, Indiana. For his undergrad, Ryan is studying business management and marketing, where he has focused his studies on entrepreneurship and organizational leadership. He is also enrolled in the Integrated Masters of Finance program looking to earn certification in corporate finance. On campus, Ryan has served as president of CWRU's professional business fraternity Alpha Kappa Psi for the past year and a half, and is currently working in the CWRU Student Activities and Leadership Office. Ryan has a passion for thought and change leadership, and excels at helping organizations and business operations grow. Ryan wants to use his skills to build collaborative environments around the evolution of green energy, so he can create positively impactful and sustainable solutions for the future. In his spare time, Ryan loves trying to make new food recipes and playing the guitar.
Helen Tresseler
Third-Year
Major: International Studies and Economics
Minor: Art History and French
Helen Treseler is originally from Westchester County, New York, and is beyond excited to bring an economic and political side to the world of energy. She is also taking this opportunity to learn more about the scientific and engineering perspectives behind energy production. Outside of academic pursuits, Helen proudly serves on University Media Board and CWRU's Model UN Team, while writing for The Observer and The Athenian. She is a cat person, but will do anything for her 4 year old yorkie.
Zhuldyz Ualikhankyzy
Major: Data Science and Materials Science Engineering
Zhuldyz was born and raised in Kostanay, Kazakhstan until the age of 17 when she moved to Singapore to pursue education at United World College with a noble mission of making education a force to unite people, nations, and cultures for peace and a sustainable future. With Zhuldyz being dedicated to the idealism of a sustainable future, she finds joy in working on complex problems with bright-minded fellows to make their contribution to sustainability goals. She believes energy is a source of progress and needs further advancements to be affordable and clean. Zhuldyz cannot wait to embark on her journey to the ThinkEnergy Fellowship program to realize her dreams by extending her network and working on impactful projects using her background in Data Science and Materials Science Engineering. 
Sam Rojanasakdakul
Third-Year
Major: Computer Engineering
Minors: Physics and Chinese
Sam is a third-year student from Columbus, Ohio. He is a BS/MS student majoring in computer engineering with minors in physics and Chinese. Sam is excited to be a ThinkEnergy fellow because he believes that being a fellow will teach him more about innovations in the energy sector and teach him valuable entrepreneurial skills. He is also a member of the Case Western Men's Soccer team and loves to cook and hike.
Chistopher Chaeyoung Yoon
Fifth-Year
Major: Chemical Engineering
Christopher Chaeyoung Yoon was born in California but grew up in South Korea and the Philippines. On campus, he has worked in a research lab studying mass transport within a layer of membrane absorbers and was also a student sustainability ambassador primarily working on recycling and reusing. Now returning from his co-op experience at Mitsubishi Chemical Performance Polymers, he is excited to apply his experience to ThinkEnergy projects and learn more to pursue his career goal as a compliance engineer. In his free time, he makes music and watches movies.
Diana Jones
Second-Year
Area of study: Physics Entrepreneurship
Diana Jones is a second-year graduate student pursuing her Masters in Physics Entrepreneurship. As northeast Ohio native with an unwavering love of Cleveland, she envisions a future where the city thrives as an eco-friendly hub, relying on renewable energy sources such as solar and wind. Her fascination with the renewable energy sector was ignited during her undergraduate studies in thermodynamics. In this course, she gained a deep understanding of the pivotal role physics plays in comprehending the world around us, especially in the energy sector. She currently works at a tech start-up, where she is a member of the materials development team. The company's overarching goal is to revolutionize the field of data storage by creating a medium that is significantly less energy-intensive, thereby reducing the environmental footprint of data centers. As a ThinkEnergy Fellow, Diana is excited to work with like-minded individuals who share the same passion for renewable energy and a greener future. In her free time, she enjoys working out, exploring new areas of Cleveland, and listening to music.