Building the Future Together
Feb. 18-26, 2022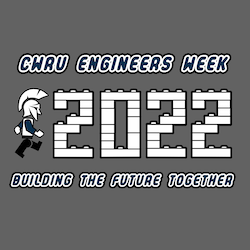 This year's event is scheduled for Feb. 18-26, with the theme, "Building the future together".
Over the course of the week-long event, students have the opportunity to bond through friendly competitions and social events such as a light bulb drop, a Lego bridge building contest and a trivia night.
Schedule of events*
The CSE Peer Advisor's Last Engineer Standing
Feb. 23 | 5 - 8 p.m. | Thwing 2nd floor
Teams of three or four will undergo a series of engineering challenges that encompass a range of engineering disciplines. The race itself will be survival themed and loosely based on the game shows of The Amazing Race and Survivor. After each challenge, groups will receive a prompt for the next challenge. Prizes will be awarded to the top teams!
The Engineering Game: Student, faculty and alumni showdown. Gutti Memorial Teaching Award Presentation
Feb. 24 | 7 p.m. | Watch in-person in the Tinkham Veale ballroom, pick up food before watching virtually or livestream at home
Student, Alumni, Faculty Showdown and Gutti Memorial Teaching Award Presentation. Tune in…you never know who might make a guest appearance!
Society of Women Engineers Alumni Speaker Spotlight: Kirsten Bowen (CWR '96)
Feb. 25 | 12:45 - 2 p.m. | Attend in-person at Tinkham Veale Ballroom C or via Zoom
Join the CWRU chapter of Society of Women Engineers as we welcome civil engineering alumni Kirsten Bowen (CWR '96) to talk about her experiences and give advice to the next generation of leaders in this field. Learn more about Bowen, who is a vice president at Michael Baker International.
Case Engineers Council Virtual Escape Room
Feb. 25 | 4 - 6 p.m. | Virtual
You are doing work in the lab when suddenly, something goes wrong...can you solve the puzzles in time to escape? Test your logic skills and be the first one to survive! The Escape Room will start every half hour with the winner from each time frame receiving an Amazon gift card! To register, text @escape2022 to 81010.
*All times are EST
E-Week 2022 Planning Team
DELPP: Debbie Fatica, Genine Apidone, Susan Mittelstaedt, Olivia Minner, Queen Hassan
Corporate Relations: Anne Borchert, Virnette House-Browning
Case Alumni Association: Kelly Hendricks
CEC: Nate Perez, Michael Brough
CSE Peer Advisors: Joel Linebach, Sonia Velu
SWE: Jillian Russo, Anna Currin
SHPE: Christian Reyna, Alyssia Broncano
NSBE: Khadija Abdullahi
WISER: Ashley Sah
Engineering Graduate Group (EGG): Nathan McMullen
Tau Beta Pi: Rachel Beller
DiscoverE, the national organizer of E-Week, is a formal coalition of more than 100 professional societies, major corporations and government agencies, dedicated to ensuring a diverse and well-educated future engineering workforce by increasing understanding of and interest in engineering and technology careers among young students and by promoting pre-college literacy in math and science.