Students bring hands-on experience to program at Cuyahoga Community College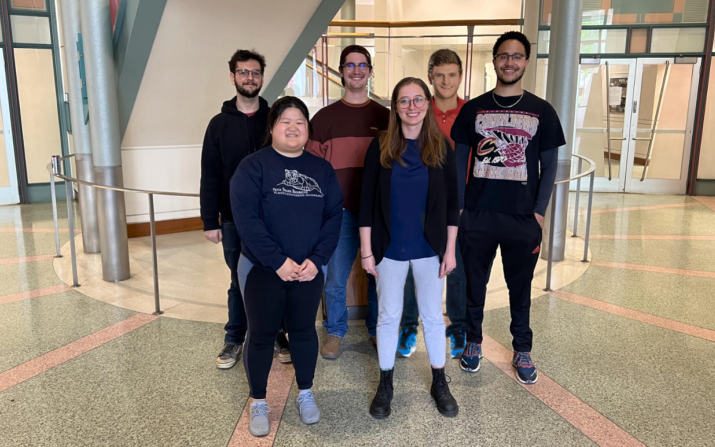 Published on
Jun. 20, 2023
Sometimes the best way to learn something new isn't from a lecture, but from a hands-on approach. 
Graduate student Dillon Gagnon and others in the Department of Macromolecular Science and Engineering, under the direction of Assistant Professor Svetlana Morozova, are using hands-on learning to teach Cuyahoga Community College students science classes as they prepare for the General Educational Development (GED) test.
"I made my way through lectures to get where I am today, but I learned the most in the lab, working with my hands," Gagnon, the project's lead, shared. 
With the support of Morozova's National Science Foundation Faculty Early Career Development Program (CAREER) award, the team of students is developing and teaching lessons focused on sustainability and polymer science, complete with hands-on experiments, to help improve science literacy in the community. During their first visit to the East Cleveland Public Library, the team worked with students ranging in age from 16 to 60. 
In an effort to avoid lecturing, they provided students with a packet of exercises and, after a quick introduction to the lesson, prompted the students to start working on the packets. As the class worked, Case Western Reserve students circled the room and provided one-on-one assistance. 
"We know these students didn't succeed in a normal classroom setting," Gagnon said. "So, we don't want to just lecture for an hour and a half. Instead, we are trying to make all the lesson plans focused primarily on guided practice."
Gagnon has a passion for teaching. As an undergraduate student, he taught a remedial math class for English majors and has since realized that working with students who don't like or understand the material has become his 'bread and butter.'
"Getting to bring a hands-on approach to learning for students is really cool," he said. "They might not have had that opportunity in their high school, but giving them the opportunity to be in that environment now is [rewarding]."