Spartan Showcase: Kathryn Wilcox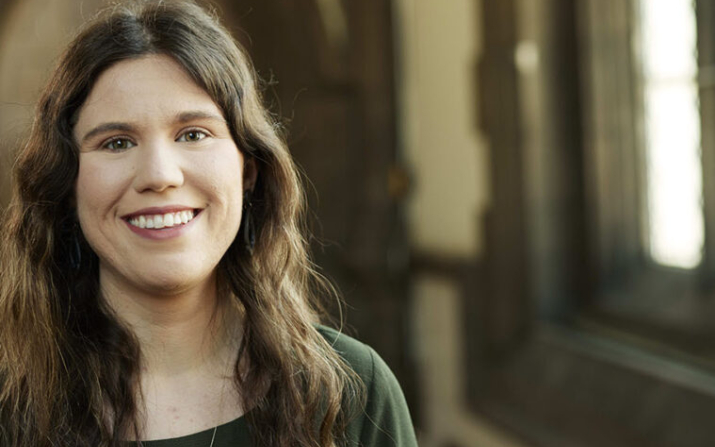 Published on
Mar. 22, 2022
Students at Case Western Reserve University are challenged to "think beyond the possible" each and every day—and third-year PhD student Kathryn Wilcox takes that mission to heart.
A Texas native and "proud Aggie" alum of Texas A&M University, Wilcox is passionate about research, effective science communication and outreach. Particularly, her goal is to make everyone feel welcome in every space, STEM spaces included. 
Wilcox is pursuing that goal as a student in the Macromolecular Science and Engineering department, where she is a National Science Foundation Graduate Research Fellow. She's working alongside Svetlana Morozova to investigate the elasticity of biomacromolecular assemblies, specifically studying polyelectrolytes (or polymers that can have charges along their backbone) and how their flexibility, structure and elasticity link to biological function. 
One example of her work is her study of collagen, an abundant polymer throughout the body that forms fibrils that give cartilage strength to bear loads. Wilcox looks at how the ionic environment and elastic environment affect fibril assembly, noting how there are still many questions on how collagen forms crucial fibrils. 
Through her work, Wilcox aims to advance the fundamental knowledge of the physics of polyelectrolytes to produce better materials for everyone's benefit. And beyond that? She hopes to communicate her work in a way everyone can understand.
"If scientists cannot effectively get their findings [across] to another person, what impact can their research truly have?" Wilcox asked. 
Outside of her academic pursuits, Wilcox is the co-president of the Macromolecular Student Organization and president of the Science and Human Rights Coalition. One of her proudest achievements includes being a part of the steering committee for Case Western Reserve's chapter of the 3 Minute Thesis (3MT) competition as well as Sciencepalooza, a reverse science fair geared toward local high school students and their parents. 
"The amount of great research at CWRU astounds me," Wilcox explained, "and I am so grateful to give students the opportunity to highlight and communicate their work."
When she graduates, Wilcox aims to work at a national laboratory and continue doing community outreach to encourage public interest in research.