Polymer gel researcher wins National Science Foundation early career development award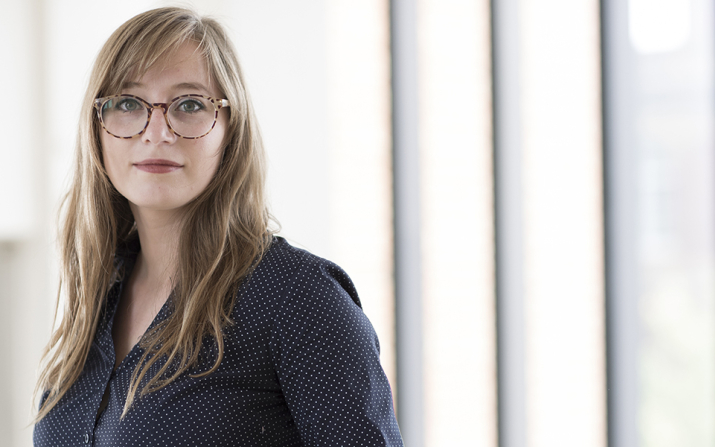 Published on
Mar. 31, 2022
Svetlana Morozova, assistant professor of macromolecular science and engineering, focuses on understanding what happens when gels interact with surfaces
Case Western Reserve University scientist Svetlana Morozova, whose research explores the unique properties and possibilities of polymer gels, has been awarded a National Science Foundation (NSF) Faculty Early Career Development Program (CAREER) grant to further examine how they interact with the surfaces of other materials.
Polymer gels are linked, three-dimensional networks of long-chain molecules. These materials are used in everyday items, from contact lenses to baby diapers—and the subject of increasing research as scientists seek better ways to develop gels for medicine and engineering.
Morozova's lab at Case Western Reserve studies several aspects of these gels, including how they react when manipulated and how they interact with other materials. The NSF CAREER award—$610,000 for five years—will support that latter research, in particular.
"Think of these gels as sponges at nanoscale," said Morozova, an assistant professor of macromolecular science and engineering in the Case School of Engineering. "Any sort of energy applied to that sponge can really change the behavior of those materials. That's what makes them so appealing to a lot of researchers."
The research is not limited to manufactured polymer gels, but also includes natural gels, such as the cornea and connective tissues in the human body.
"And that means there are also many applications," she said. "Those applications include how a contact lens responds to the surface of your eye or how a liquid suture reacts to the surface of your skin—but even how cells interact with each other when they reproduce."
Venkataramanan "Ragu" Balakrishnan, the Charles H. Phipps Dean of the Case School of Engineering, congratulated Morozova. He said the NSF award was an indication of her "innovative approach, clear vision and the potential for lasting positive impact of her work."
Venkataramanan "Ragu" Balakrishnan, the Charles H. Phipps Dean of the Case School of Engineering
The CAREER award is considered NSF's most prestigious grant to junior faculty members "who have the potential to serve as academic role models in research and education and to lead advances in the mission of their department or organization."
Balakrishnan said Morozova's research exemplifies what it means to be an engineer because she "identifies shortcomings with today's technologies and works to address those gaps by creating revolutionary materials which have the potential for transformative knowledge which may ultimately translate to advanced products and better health outcomes.
"This is exactly what engineers are meant to do: We see something that can be improved and we work to fix it, for the betterment of all," Balakrishnan said.
Polymers all around us
Polymer gels are a more recent development of polymers–the molecules made of linked chains of individual units (called monomers), which can be found virtually everywhere on earth. 
These polymers occur naturally in starches like pasta and potatoes, in the cellulose of plants and in fabrics like cotton and wool or in the keratin of fingernails and hair. 
Because the molecules can be cross-linked to make materials with different properties—like density, strength and elasticity—they are especially malleable and durable. Manufactured polymers (rayon, nylon and polyethylene, among others) have exploded in use over the last century. They can be found in plastic water bottles, nylon jackets, rubber tires and touch virtually every aspect of modern life.
Educational outreach programs
The NSF CAREER award focuses equally on educational outreach. Morozova plans a three-part educational program to "advance local knowledge and appreciation of polymer science, which is one of the leading industries in the Cleveland area," she said.
She plans to:
Create a series of educational demonstrations with Cuyahoga Community College (Tri-C) to help adults in secondary education learn scientific concepts, with an emphasis on polymer science and recycling.
Establish a weeklong annual workshop at Case Western Reserve to educate and engage local polymer industries on new techniques used in this study.
Educate new leaders in polymer science by mentoring Cleveland Metropolitan School District high school students through a "Polymer Envoy" program, yearly showcases at science fairs presented at John Hay High School and laboratory experiences for undergraduates.
"We believe it's so important to get young people interested in polymers science and teach everyone that these materials can be sustainable," Morozova said. "And we see this as something that can grow larger. We want to interest as many young people and adults as possible."
---
For more information, contact Mike Scott at mike.scott@case.edu.