Welcome back to Sears think[box] for Spring 2021! We are committed to provide a safe and welcoming environment which incorporates all of CWRU's Health and Safety guidelines.
Here is what you can expect when you visit think[box]:
---
Open Hours
We are OPEN 12pm-7pm on weekdays beginning on February 1. When we're open you can just walk in - no appointment necessary.
In the event we reach our maximum capacity, we will ensure equitable access and provide waiting areas with tables and chairs. You can call ahead at 216.368.3248 to find out how busy we are.
---
Available Resources
Consultations: Schedule a time for a phone or Zoom consultation for your project with our staff.
Guided Visits: Schedule a time to explore what's available with the help of our staff.
Equipment List: Read up on all our equipment, including step-by-step tutorials.
Rooms: Reserve a room for studying, video conferencing, or meetings.
Services: Order 3D printed parts, circuit boards, and more for pickup.
((Coming Soon)) Training: Schedule a one-on-one training session on our equipment.
Video Tours: Learn what we're all about in just 8 minutes.
VR Walkthrough: Walk through the facility this virtual experience in your browser.
---
Getting to/from think[box]
Please use the think[box] entrance at 11201 Cedar Avenue. You may NOT enter or exit think[box] through the Veale Athletic Center.
The image below illustrates the walking path from the Veale Parking Garage to the think[box] entrance using the stairs between Glennan and Veale. Please contact us for directions or accessibility accommodations at 216.368.3248 or at thinkbox@case.edu.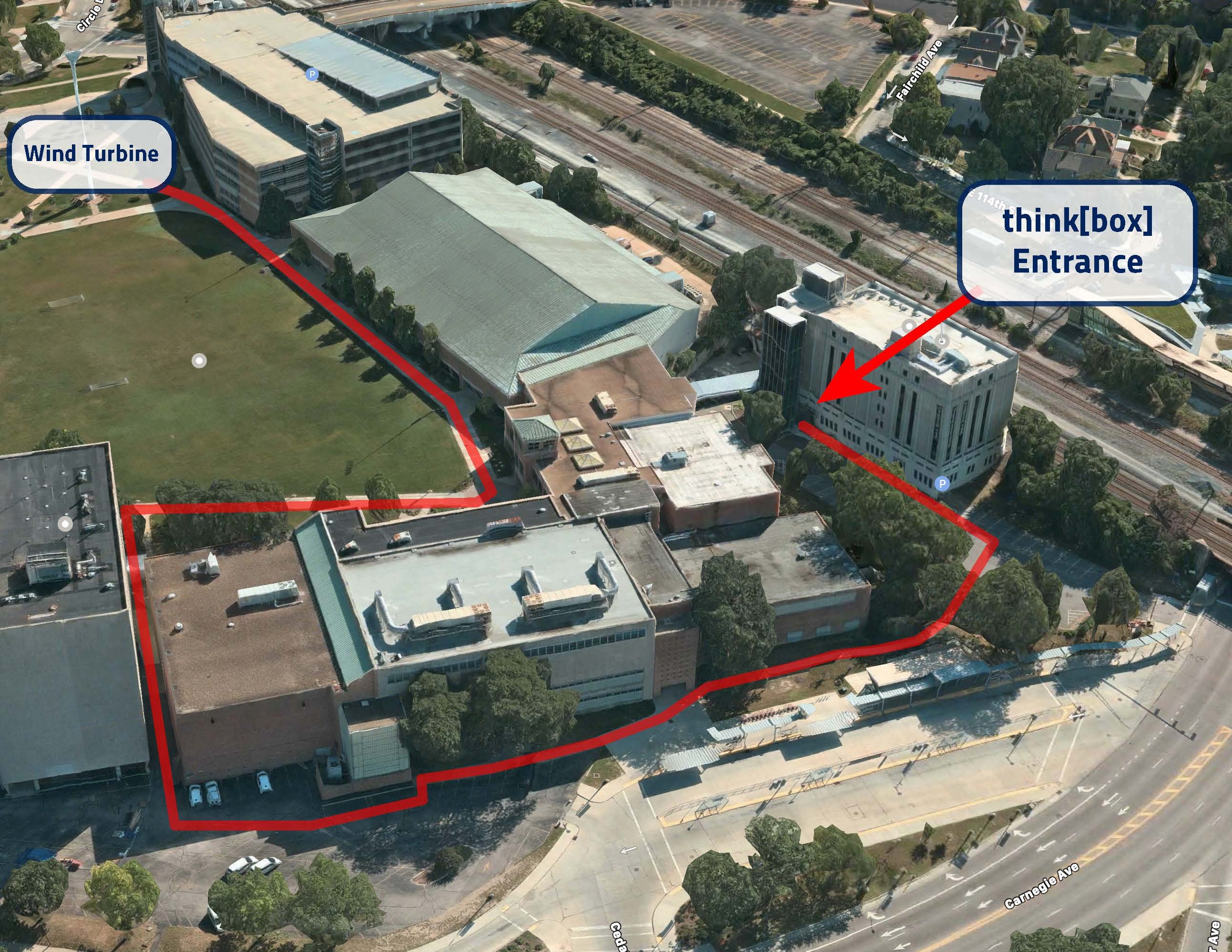 ---
Academic Course Support
We can provide additional support for academic courses, including access to think[box] in the mornings for class sessions. Please contact us at thinkbox@case.edu for more information.
---
Contact Us
We're here to help! Send questions and feedback to thinkbox@case.edu and we'll do our best to address them.
We need your help to share all the amazing things that happen at think[box] every day. Whether you're learning to use the equipment for the first time or developing your million-dollar idea, we want to hear your story.