When art and engineering collide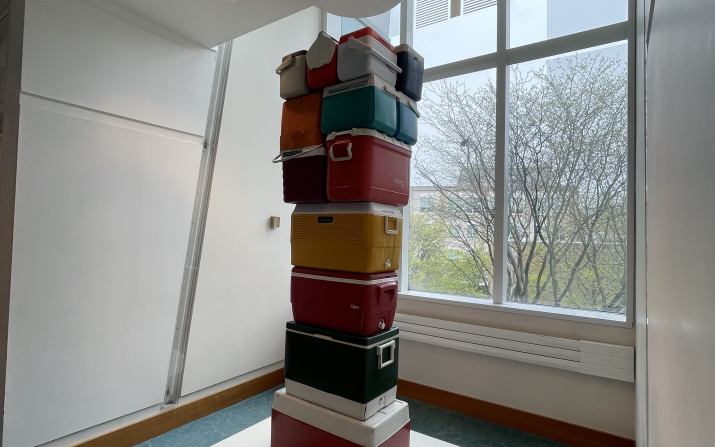 Published on
May. 5, 2023
Last month, the most recent addition to the Putnam Collection was installed in the Kent Hale Smith building. The sculpture, created by local artist Lauren Yeager, features Igloo coolers—an expression of her approach to "collecting, curating, and re-imagining commonplace objects as sculptural components."
The items are primarily sourced from curbsides throughout Cleveland. 
"I intercept the objects as they wait to be hauled to landfills," Yeager shared on her website. "I consider my approach to compiling found objects as akin to archeology. These discarded objects represent a vast series of personal decisions about use and worth that reflect the values of our contemporary society at large."
Gary Wnek, chair of  the macromolecular science and engineering department, sees this installment as an opportunity to create connections with the Department of Art and Art History in the College of Arts and Sciences. 
"There has been little overlap between engineering and art up to this point," Wnek said. "And our department is in a unique position to make those connections."
With expertise in polymers, the Department of Macromolecular Science and Engineering can bring interesting information to the table, like identifying what materials that have been used in a work of art and understanding the best ways to preserve certain materials. 
In partnership with Andrea Rager, Jesse Hauk Shera Associate Professor in the Department of Art and Art History, Wnek and the department will start forging pathways between the disciplines in coming months.