VCIC team places 3rd at national competition with help of two engineering students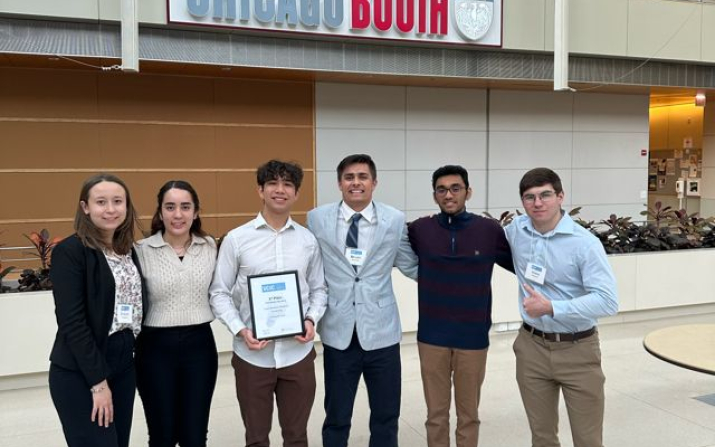 Published on
Mar. 2, 2023
Venture capital isn't just for business majors and two second-year engineering students can prove it.
As members of the Venture Capital Investment Competition (VCIC) team, Evelin Urbancsok and Amos Langsner traveled to Chicago in February to compete in the regional VCIC competition where they took home third place.
Over the course of the three day competition, students emulate venture capitalists, analyzing three real startups and deciding where they should 'invest' their money. 
"We were doing real VC work," Langsner said. "Meeting with the founders, building a deal memo from scratch… In two days we had to learn everything we could about three industries that we didn't know that well."
After the competition ended, students had the chance to sit down with the judges—real venture capitalists—and discuss their strategy and get useful feedback.
"Before I did this, I thought VCs were the lazy ones who didn't want to take a risk on their own," Langsner said. "But now I know it's the opposite, there are a lot of startups and not a lot of VCs because there are risks involved in investing and you have to be able to analyze a business holistically. The experience was humbling."
In addition to Langsner and Urbancsok, the team included students with data science, finance and international business majors. At first, Urbancsok was concerned because she wasn't a finance or business major, but she quickly discovered that it's possible to do something that is outside of your major and be welcomed.
"Everyone can bring something unique to the table," she said. "I had the least experience on the team and I went in feeling insecure about it, but I got a lot of support from my teammates. They made sure I knew what was going on and that I felt valued and could contribute. You just have to be open to learning new things and having new experiences."
Interested in getting involved?
Learn more about joining the VCIC team on the Veale Inistitute's website.
Langsner also runs Northeast Ohio Student Venture Fund (NEOSVF) at Case Western Reserve University, a student-run venture capital firm working to advance the development of technology and business in Northeast Ohio. In February, the group attended a session to listen to local startups pitches. Over the course of the semester, the CWRU NEOSVF team will work closely with one of those startups.
"It's mostly business students that do it, but engineers are good at it and we have a wide variety of ways to analyze a value proposition," Langsner said.
Students interested in joining should contact Langsner at ajl276@case.edu.