Study Abroad Q+A with Cecile Laundre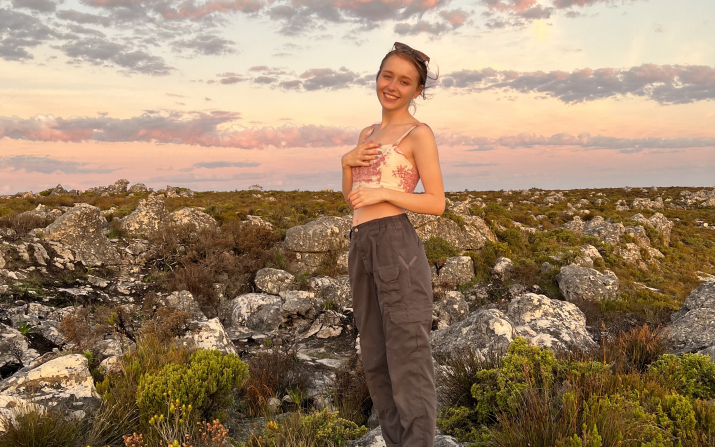 Published on
Jun. 7, 2023
Name: Cecile Laundre
Major: Civil Engineering & Environmental Studies
Year: 2024
Where did you travel to?
Cape Town, South Africa
When did you arrive and when do you return?
I arrived on January 31st and I come back on June 16th!
What do you do in a day?
Most days I'm on UCT campus taking classes for my civil engineering major. However, when I'm not in class, I'm out freediving/snorkeling in False Bay, hiking on one of the many beautiful trails around Cape Town, or watching movies with friends.
What classes are you taking?
I'm taking five classes this semester: Construction Materials, Structural Analysis, Sustainable City Design, Transportation Engineering, and Microeconomics. 
What has been your favorite part?
I'm obsessed with the nature and environment in Cape Town and South Africa in general, so I have to say that my favorite activity I've done here is visiting Tsitsikamma National Park along the Garden Route.
Have you traveled other places while studying at CWRU?
Yes! During my sophomore year I visited Amsterdam in the Netherlands, and have also had a chance to visit Canada's west coast. 
What inspired you to do a study abroad trip?
Since I was a kid I've always been lucky enough to have opportunities to travel internationally, so when it came to university I knew I didn't want to spend my entire four years studying in the United States. Luckily, CWRU's study abroad program was really helpful in finding programs that worked with my major requirements and graduation plan, and so I figured I had to take advantage of that! 100% of financial aid provided by CWRU also goes to help fund studying abroad, and so I figured I would just never have an opportunity to do something like this again. 
What would you tell a student who is considering studying abroad?
Figure out how to get it done and do it. Study abroad can seem intimidating beforehand - not only are you choosing to pick up and start fresh in a new country for an extended period of time, but there' a lot of paperwork and applications that need to be filled out before you even get on a plane. Looking back, I don't even know how I got all my visa paperwork done in time. But it's so worth it - going abroad allows you to learn so much about the world and yourself that the benefits are more than worth any struggle it took to get there.