Spartan Showcase Gautham Chitturu and Will Schwartzman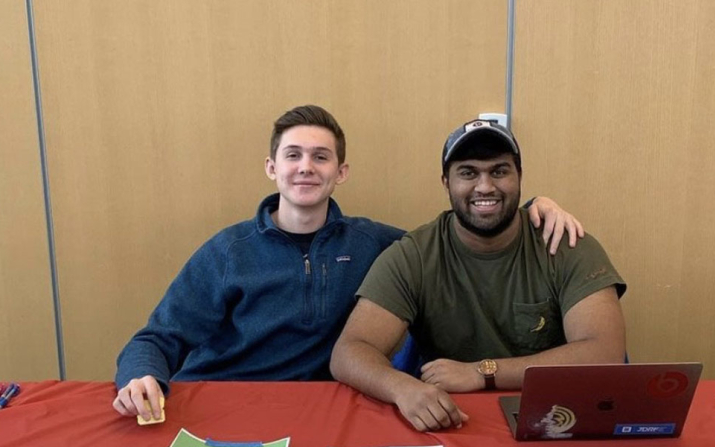 Published on
Jan. 12, 2021
Year: Seniors
Majors: Neuroscience and healthcare management (Chitturu); biomedical engineering (Schwartzman)
Minors: Chemistry and economics (Chitturu); sociology (Schwartzman)
As individuals in Ohio began receiving the COVID-19 vaccine, two Case Western Reserve students penned an op-ed for cleveland.com urging the state to consider disparities in how it rolls out its distribution plan. Seniors Gautham Chitturu, who majors in neuroscience and healthcare management, and Will Schwartzman, a biomedical engineering major, called upon state leaders to look into the feasibility of their plans to distribute the vaccine to those facing disparities in their access to health care. (Students Jeanette Herrera, Etaasha Jain, Shamamah Khan, Cecilia Kim, Aubrie Mance and Claire Lee also conducted additional research for the piece).
The opinion piece is the students' latest effort to address health care access. As co-leaders and founders of Universal Health Aid Cleveland, Chitturu and Schwartzman aim to promote healthy lifestyles in the Cleveland community with initiatives that address disparities in health care and health literacy. Other recent efforts by the duo have included helping community members sign up for Medicaid amid the COVID-19 pandemic and raising awareness on lead poisoning in Cleveland.
"Problems stemming from health care disparities may seem daunting, but CWRU students have the resources and [guidance from] faculty of a renowned institution to actually effect change," Chitturu said. "Our job as students isn't just to learn, but to use our knowledge to apply [it] to real-world issues. I am grateful to attend an institution that houses various clubs and organizations like Universal Health Aid that promote social justice initiatives."
Chitturu was inspired to launch a chapter of the Universal Health Aid, a national nonprofit, after volunteering as an EMT at an event in Toledo. Bringing his experience back to CWRU, Chitturu teamed up with Schwartzman to found the Universal Health Aid Cleveland chapter here in July 2019.
Initially, the students considered using the chapter to host a periodic free health clinic. But in what Schwartzman calls his most meaningful experience with the organization, a local pastor helped redirect the students toward a more impactful approach toward disparities. Instead of offering direct assistance to the community, Universal Health Aid Cleveland now examines the root causes affecting health care access and uplifts the organizations and efforts that already exist to connect members of the community.
As seniors, Chitturu and Schwartzman will pass on the reins to the group's next set of leaders in March. But their work improving medical care will not stop there. Both plan to begin medical school in the fall and intend to continue pressing for equity throughout their careers.