Spartan Showcase: Franco Kraiselburd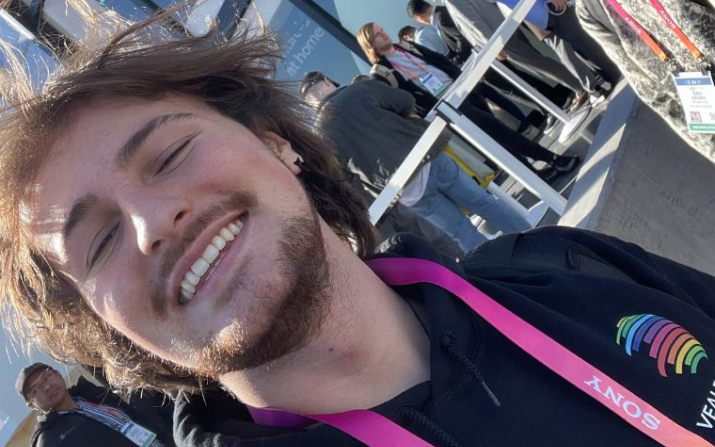 Published on
Jan. 20, 2023
Inspired by his early experiences working in a medical lab, Franco Kraiselburd founded Asclepii, a startup focused on improving wound care with stem cells.
Kraiselburd, a junior biomedical engineering student from Argentina, recently learned more about entrepreneurship at CES as a Veale Snyder Fellow. Next, he'll travel to Barcelona later this semester to gain more insight.
While on campus at Case Western Reserve University, he is involved with numerous organizations; he's a research assistant at the Skeletal Research Center, vice president of entrepreneurship and co-founder of the Medical Technology Group at CWRU, vice president of civic engagement for La Alianza, and a member of the Society of Hispanic Professional Engineers. 
Kraiselburd discussed his path to CWRU and entrepreneurship—and shared more about his company, Asclepii.
Answers have been lightly edited for length and style.
1. What drew you to CWRU?
In the middle of applying to colleges, a very supportive family friend recommended I apply to Case [Western Reserve] because of its heavily research-focused environment and immense support to its students. He told me that, as a Case [Western Reserve] student, the possibilities for innovation and growth would be endless—and he couldn't have been more right! 
2. What interested you in biomedical engineering?
In 8th grade science class, we learned basic concepts about the human body, its systems, and its diseases. It was fascinating to be able to understand how the body works, because to me, our bodies are quite like the "perfect machine!"
I was paired with a mentor who specialized in mesenchymal stem cells (MSCs) and spent the next year surveying the literature and trying to identify problems and needs within the medical research community. Once I had an idea and had plans on how to test it, I reached out to 37 labs around the area that worked with MSCs and could potentially bring me in to learn, receiving only one reply. 
Luckily enough, I was offered a position as a part-time research assistant at Nucel, a cellular and molecular biology lab in the School of Medicine [at the University of São Paulo] that quickly became my second home. 
3. What inspired you to pursue entrepreneurial applications?
The idea of making a company actually came from my father, who teaches master's in business administration [courses] for a living … Growing up around my dad helped me always keep that mindset in the back of my head. What truly inspired me to follow through with the company (especially at this time) was the lack of efforts to target underrepresented populations (or the ones who need it most) in healthcare—particularly in the wound care market. There are so many new fantastic innovations coming out of well-funded research every year, but they typically target people with regular access to hospitals and healthcare services. With this in mind, I set out to leverage the connection I made with the lab in Brazil and some new connections I had made in Mexico in order to initiate a collaboration that could try to make something with an application that is as broad as possible.
4. What about the combination of entrepreneurship and medicine intrigued you?
The most successful medical entrepreneurs I have met so far care very little about actually succeeding with any given startup but are very passionate about the genuine problem they are trying to solve. I've also always wanted to have my own lab and team of scientists who share the same interests and passion that can set out to solve some of the world's most challenging problems. Thanks to the entrepreneurial route, I've finally been able to achieve a version of that and I could not be more grateful!
5. Tell me about your startup. What was the inspiration behind it?
A lot of solutions for wound care can be particularly hard to apply widely because they use cells or tissues from either the same patient or another one. This can often produce an immune response and worsen the situation. Additionally, most solutions available in the market weren't really stimulating anything in the healing process, working mainly as wound cleaners and hydrators. I knew that the perfect solution could be sold in any pharmacy at a relatively low cost, applied to any wound, and require no living tissue or cell. The inspiration came from challenging myself to truly create something disruptive and impactful that can enhance your own body's healing. I genuinely want to be an agent of change and further push companies to make healthcare based on wellness and not profit. The fact that I can do it with other Latinos is a privilege.
6. What has it been like to launch a startup as a student? What have been some of your best moments? What about any challenges you've faced?
To be completely forthright, being a student and startup founder can be incredibly challenging, especially in biomedical engineering. As much as I believe (and hope) this will change in the future, there is little academic benefit to student entrepreneurship in the current state of the engineering curriculum. [However], Sears think[box] and LaunchNET support student entrepreneurship incredibly well, and that's why it has been wonderful to work with them!
There also is a very positive side to being a student entrepreneur. Thanks to the Veale Institute for Entrepreneurship, I was selected for the Veale Snyder Fellows Program and had the incredible opportunity to travel to San Francisco over fall break to meet entrepreneurs from the Bay Area! Being a student can really get you a foot in the door to some incredibly receptive and successful people who can provide a lot of support, and I think that is underrated as well. Sometimes, it is the sole fact that I am a Case [Western Reserve] student that makes people give me an ear!
7. What was your experience at CES like?
CES was very fun. Although it was very hectic, we got to meet some very smart people and learn from some of the best in the world. I really enjoyed getting to know CWRU-related startups and working at the booth!