Researchers Markowitz, Tyler elected fellows for 2022 class of National Academy of Inventors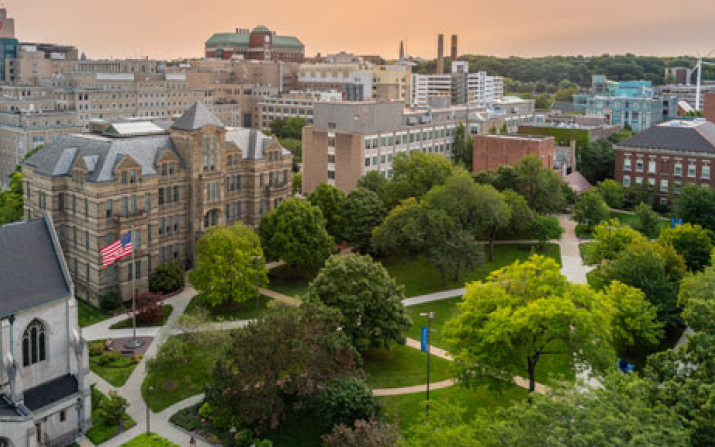 Published on
Dec. 8, 2022
Case Western Reserve University researchers Sanford "Sandy" Markowitz and Dustin Tyler have been elected fellows of The National Academy of Inventors (NAI). The honor highlights the overall career and impact individual inventors have had in their field and society.
Markowitz, a Distinguished University Professor, is the Ingalls Professor of Cancer Genetics at the Case Western Reserve School of Medicine. He was part of the team that sequenced the first complete cancer coding genome. His groundbreaking medical research also has transformed human understanding of the genetics of gastrointestinal cancers. In addition, he helped create the first commercial DNA-based stool test for colon cancer.
Tyler is the Kent H. Smith II Professor of Biomedical Engineering at the Case School of Engineering, where he has become a global pioneer in neural engineering—improving lives by making the prosthesis feel more like a part of the body by restoring the sense of touch to amputees.
Markowitz and Tyler join nearly 20 others affiliated with Case Western Reserve who have been elected as fellows or senior members by the NAI in the last decade.
(See the CWRU list below; a comprehensive list of NAI Fellows is available on its website.)
"I am thrilled that the contributions of Sanford Markowitz and Dustin Tyler have been appreciated and recognized by the NAI," said Michael Oakes, senior vice president for research and technology management at Case Western Reserve. "Putting scientific discovery to use is fundamental to our problem-solving research mission. I can't wait for the next amazing invention from our colleagues."
Neural engineering, with feeling
Tyler has more than 50 U.S.-issued patents and several in foreign countries, with another 40 pending applications nationally and internationally. In addition, three U.S. companies have active licenses on these technologies. A Fellow of the American Institute of Medical and Biological Engineers, he met in March of this year with President Biden at the White House to discuss some of his team's most recent technology.
But while Tyler's work, often in partnership with the Louis Stokes Cleveland VA Medical Center, is considered neural engineering— it is increasingly focused on the people, not just the technology.
"We are working to change from using technology to embodying technology," he said. "This means collaborating across humanities, engineering, medicine, ethics and entrepreneurship to develop human-centered approaches to a human-centered future that expands human potential beyond our biological limitations."
More specifically, that has meant "developing the most advanced interfaces between human and technology," he said. "This means we are able to help people with injuries such as stroke, spinal cord injury and limb loss to regain a quality of life that is not possible with medications or any other medical treatment."
Tyler said he was "extremely honored and humbled" to join CWRU colleagues in the NAI who had been his "mentors and inspiration." He added that it would "never have been possible without the incredibly talented and dedicated students, engineers, staff and colleagues that I have been privileged to work with over the past 30 years."
Tyler is also executive director of the Human Fusions Institute, where he is pushing the boundaries of what it means to be human by enabling the mind to transcend the barriers of the body via neural interfaces.
"I am excited to be moving neural technology and innovations beyond just medical applications to the bigger scope of the future co-evolution of humans and technology," he said. "Humans and technology are forever intertwined, and it is our goal to develop technology that achieves the best benefit for humanity."
This story was originally posted in The Daily on Dec. 8, 2022.