New Faculty Spotlight: Abhinav Acharya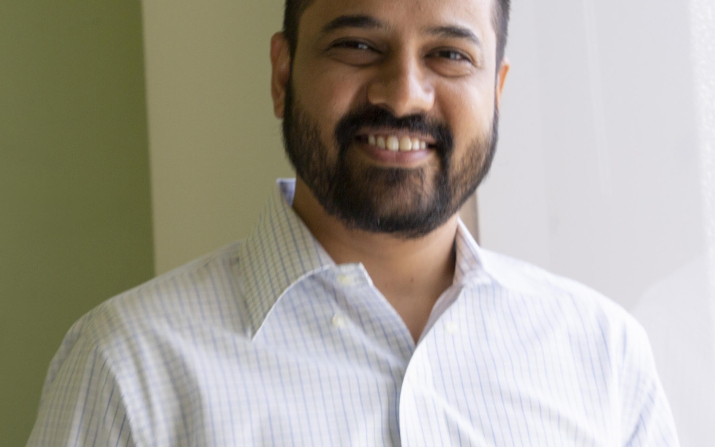 Published on
Sep. 1, 2023
Abhinav Acharya
Assistant Professor
Biomedical Engineering
Growing up around coal mines, Abhinav Acharya was always "in awe" of the different types of engineers required to work together in order to resolve day-to-day operational issues. It was these moments that made him realize that to accomplish large, pressing projects, engineers had to do it in partnership with one another.
With a PhD and master's degree in Materials Science and Engineering from University of Florida and bachelor's degree in metallurgical engineering from the National Institute of Technology in India, Acharya's research focuses on immune engineering or "immunoengineering"—and it flourishes with collaboration. Existing at the intersection of engineering and immunology, immunoengineering focuses on designing new technologies that better understand the immune system, as well as improving its health. In his course on the topic, students will learn how to integrate immunology concepts with engineering technologies through analyzing data, studying research and designing experiments. 
"Being a professor of engineering offers unique opportunities to set research goals for yourself, take on new responsibilities to give back to the community, and mentor the next generation of scientist-leaders," he said. "There are few other professions that provide this level of freedom and responsibility."
What is your favorite thing about engineering?
Engineering is all about solving problems creatively. Engineering, especially at Case [Western Reserve], strives to resolve diseases associated with the human system and solve long-standing problems in close collaboration with clinicians. 
What are you most looking forward to at Case Western Reserve University?
Case [Western Reserve] has a very active research program and I am very excited to get immersed into translational and basic science research. My short-term goals are to establish an immunoengineering and immunometabolism program by heavily collaborating with the medical school, engineering and Cleveland Clinic faculty. Long-term, I want to contribute and grow the Department of Biomedical Engineering nationally and internationally.
If you're a Cleveland local, what is your favorite thing to do in Cleveland? If you're new to Cleveland, what're you most looking forward to exploring?
I am not a Cleveland local, but I am looking forward to attending home games at Rocket Mortgage FieldHouse. I am also looking forward to educating myself on the rules of the Monster Hockey games and attending Severance Hall events.
What's the best piece of advice you've ever received?
I have several mentors who have given me several great pieces of advice over the years that have helped me advance in my career and maintain a good work/life balance. One of the best pieces of advice that I received was to be intentional in my approach.
Is there anything else you'd like to share?
I am very excited to join Case [Western Reserve] and look forward to a successful and collaborative career here.