Meet biomedical engineering students who presented at SOURCE Intersections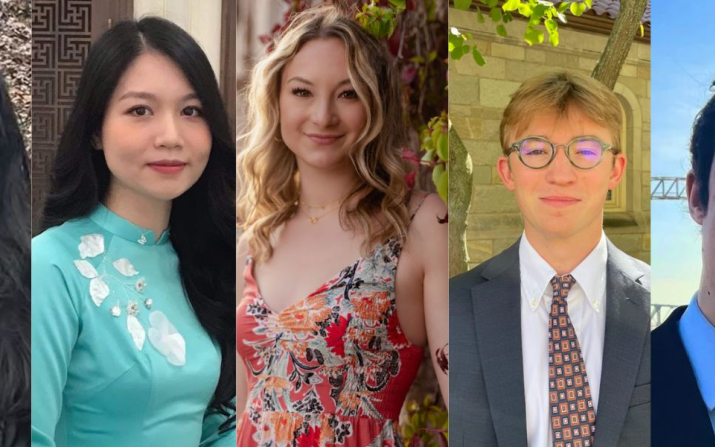 Published on
May. 15, 2023
More than 500 undergraduate students at Case Western Reserve University took to the Veale Convocation, Recreation and Athletic Center on April 21 to present their research and creative projects at Intersections, a poster session hosted by the Support of Undergraduate Research and Creative Endeavors (SOURCE) office. 
Held each semester, the event is an opportunity for students to share the array of academic work they're conducting with the academic community, which spans all disciplines—from arts and humanities to engineering, life sciences, physical sciences and social sciences. 
The Daily sat down several students who presented their work, including a group of fourth-year biomedical engineering students. 
Harshita Kumar, Linh Hoang, Michiko Haynie, Michael Sobota, Anthony Giammo
Fourth-year students majoring in biomedical engineering 
1. Can you talk about the project you'll be presenting? 
Our project involves designing a device that mitigates fear and stress associated with intravenous procedures by augmenting the visual and tactical experience of the patient receiving the procedure. We propose a wearable device incorporating a view-blocking shield to obstruct the patient's view from the procedure, while still providing the clinician with visibility.
2. What did you enjoy most about working on this project? What kind of work went into it?
We found it fascinating to observe the entire process of designing a medical device, from brainstorming ideas that meet user needs to creating the architectural framework of the design, and finally building the physical device.
3. Have you presented before? 
We were grateful for the chance to present last semester in December as well! It is really amazing to showcase our work and get valuable feedback. Additionally, we found it rewarding to observe the other presentations and learn about their work. 
4. Why do you believe students should get involved with Intersections? 
We believe that presenting at interdisciplinary events is an extremely valuable learning experience. It provides an excellent opportunity to improve one's communication and presentation skills, while also gaining experience in designing an effective poster.