Materials science graduate students showcase their company at CES 2019
Published on
Jan. 10, 2019
Zhe Ren and Donghui Li, both doctoral candidates in the Department of Materials Science and Engineering, devised an adhesive bandage that removes easily after being treated with ultraviolet (UV) light—an especially important development for elderly patients with delicate skin, which can actually tear when a standar adhesive is removed. The duo's idea previously won the Best Student Startup Group award at the Innovation ShowCASE during 2018 Homecoming Weekend.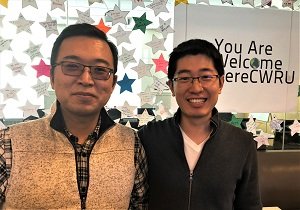 They presented their company—Lumen Polymer—and product at
CES 2019
in January in Las Vegas.
Learn more about the students and their bandage innovation.