5 questions with… rising senior, co-op program participant Alex Welsh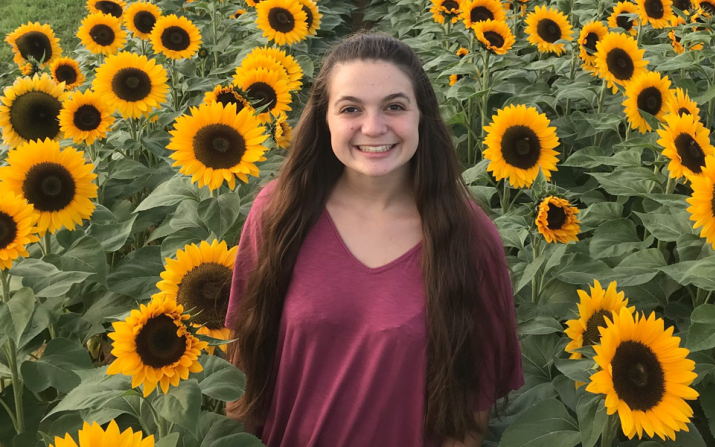 Published on
Jun. 14, 2021
Alex Welsh, now a rising fifth-year majoring in chemical engineering, had never put much thought into participating in the university's Cooperative Education Program, which allows students to gain real-world, paid experiences. Though she knew it to be a valuable opportunity, she was certain she wanted to complete her bachelor's degree in four years and graduate alongside her friends; a co-op didn't seem to be a good fit in her plan. That is, until the COVID-19 pandemic changed everything.
Welsh was studying abroad in Manchester in the spring of 2020 when the COVID-19 pandemic began. Not only was she sent home to New Jersey, but her internship at Goodyear was canceled soon after. While she could have been distraught, Welsh took the disruptions in stride, turning the past year into one of professional development and hands-on experiences.
Heading into the summer of 2020, hand sanitizer was in high demand as manufacturers scrambled to increase production. Welsh viewed this as an opportunity and connected with two local New Jersey distilleries that had shifted focus amid the pandemic to produce the product: Laird and Company, the oldest distillery in the United States, and Long Branch Distillery, a craft distillery that opened in February 2020.
After joining both teams as an intern, Welsh spent her summer working three days a week at Laird and two at Long Branch, immersing herself in processes related to quality assurance, production and research and development. 
When the offer came to continue with both companies in the fall, Welsh considered the alternative: resuming classes virtually while many of her friends stayed home. She opted to stay on with the distilleries through a co-op experience instead, committing a full academic year to working instead of completing classes. 
Welsh worked five days a week with Laird and Long Branch in the fall and completed a co-op at GE Appliances in Louisville in the spring, giving her further insight into what it's like to work as an engineer at a large company.
Ultimately, two semesters in the co-op program gave Welsh added free-time to consider her future. 
"I had a lot of time outside of work to consider what is important to me, educate myself in areas beyond my coursework, and reflect on my work experiences to determine what I am looking for in my future career," she said.
As she heads into her final year at Case Western Reserve—where she has been actively involved in research and as a facilitator for the Emerging Leaders Program—Welsh hopes to enter a career field that will allow her to apply her skills in public health and sustainability, whether that be in the fields of waste reduction, water usage or energy.
"I have recently come to the realization that my interests and major can overlap through many career options," Welsh said. "I hope to be afforded the opportunity to learn and grow in one of those roles. I hope to have a career where I am engaged, challenged, and able to see the impact my work makes."
Get to know Welsh better with this week's five questions.
1. What is something cool you've learned at CWRU this academic year? 
Well, I have not taken any classes at CWRU this year. But, I was able to learn more about the Sustainability House on campus, where I am excited to be living next year!
2. Do you prefer to get work done early in the morning or late at night? 
Previously, I would say late at night. But, I'm hoping the past year of waking up early will stick with me because I'd prefer to be productive in the morning. 
3. What do you consider the greatest invention? 
Any answer to this question feels wrong, given how almost every invention relies on the invention of something else before it. I am going to go with the printing press, because I am grateful that knowledge, experiences, history, and stories have been preserved and are widely distributed and accessible today.
4. Outside of school and work, what is your favorite way to spend time? 
My favorite way to spend time is outdoors with family or friends! 
5. What's your favorite thing about Case Western Reserve? 
My favorite thing about CWRU is the community of professors, staff and students supporting each other's personal growth and academic success.