Fifth-year computer and data sciences student working at Kennedy Space Center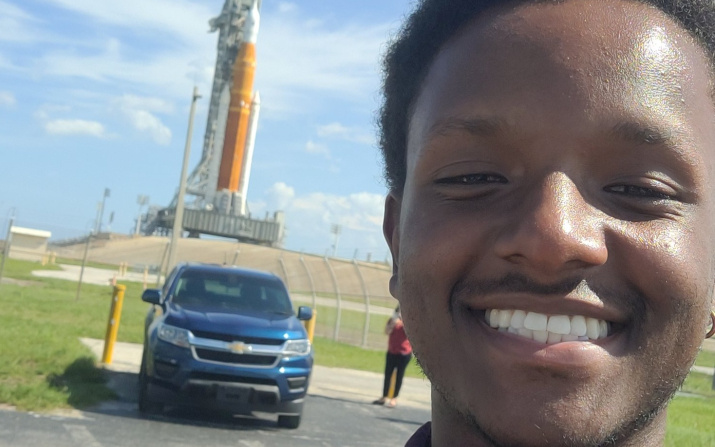 Published on
Sep. 1, 2022
Jamie Booker's first day of classes looked a little different than normal this year. Instead of walking through Case Western Reserve University's campus, the fifth-year computer science major was walking through the door of the Kennedy Space Center in Merritt Island, Florida, to start his software development co-op. 
Just over a week after his arrival, the Artemis I is scheduled to launch, on Saturday, Sept. 3, and Booker gets a front row seat to the action. Joining NASA's software development team, he will work directly with the Display Services and Framework (DSF) editor, which is vital for creating, updating, and testing interactive displays in the firing room, the place where a team oversees rocket launches.
"It allows system engineers to make sense of the data coming from the rocket and lets them control launch procedures from a safe distance," he said.
Given the Artemis I launch is just a few days away, Booker's work will impact other upcoming launches, including Artemis II, the next crewed lunar flyby mission. Plus, his work now could potentially assist in Artemis III, the next moon landing. 
"I'm still shocked that I was able to work at Kennedy Space Center during one of their most anticipated launches in years," Booker said. "I've learned so much more about the Artemis moon exploration program. I can tell this semester is going to be formative in deciding my career path."
Live coverage will air on NASA Television, the NASA app, and the agency's website. The launch is scheduled for 2:17 p.m. ET.